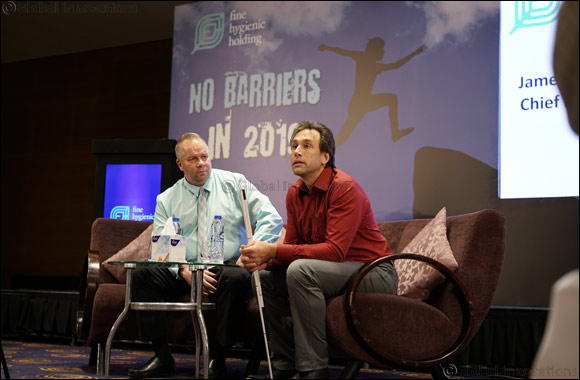 The event is part of a series to empower partners and employees
Dubai, UAE – 13 December 2018: Fine Hygienic Holding (FHH), one of the world's leading manufacturers of hygienic paper products, hosted Erik Weihenmayer, a visually-impaired mountaineering hero, at an event called 'No Barriers' in Dubai last night. Weihenmayer spoke about his perseverance, bravery and accomplishments, including the ascent of the highest peaks on each of the seven continents during the event, which was co-hosted by James Michael Lafferty, CEO of FHH.
FHH is hosting a series of 'No Barriers' events in December for Erik's visit to the Middle East as part of its drive to motivate and empower employees and partners to reach their full potential. As an American adventurer, activist, athlete, author and motivational speaker, Weihenmayer was the first blind person to reach the summit of Mount Everest in May 2001. Gaining prominence for his incredible accomplishments, Erik was featured on the cover of Time Magazine in 2001. In 2005, he co-founded the "No Barriers" organization to teach people of diverse backgrounds and abilities about finding their inner strength to overcome any obstacle. He has given motivational talks at some of the largest companies in the world.
Fine was honoured to host Weihenmayer for a series of "No Barriers" events during December where he addressed employees, partners, select customers, and other stakeholders, inspiring them to break through barriers in their own lives. He also met with Noor Dubai Foundation, a UAE based charity launched by His Highness Sheikh Mohammad bin Rashid Al Maktoum, with the vision of a world free from avoidable causes of blindness.
James Michael Lafferty said: "As Erik's ascent of Everest, and the highest peaks on each of the seven continents proves, anything is possible with enough drive and motivation, but it can't be done alone. Embracing challenges, taking risks, and taking care of the people around you are what made Erik's story possible, and are also the principles that transformed FHH from its humble beginnings into the bold, innovative, shining star of the Arab FMCG world that we know today. Erik's mentality embodies Fine's core values, and so he made a perfect candidate to motivate and inspire our people on their journey to reach their full potential and achieve the company's goals."
Lafferty added: "I have known Erik for a long time and I was truly inspired when I first met him. He showed our people and the audience at large that we are all capable of anything if we break down the barriers holding us back. We hope that Erik will empower and inspire people of all backgrounds to do the same and teach them that no matter what obstacles they face, they can achieve their goals. My top priority at Fine is to elevate the company and empower our employees to do great things, and these events with Erik provide our workforce with the drive and commitment necessary to reach new heights."
The series of "No Barriers" events organized by FHH took place on December 10 and 11 during Erik's visit to the UAE and were hosted by Fine. FHH one of the world's leading manufacturers of hygienic paper products, believes that empowering people is the key to success.