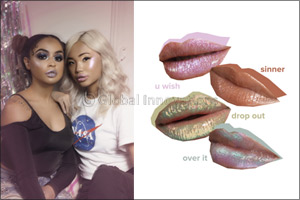 Dubai, UAE, December 09, 2018: If your calendar is full of parties from now until after the new year, then the chances are you're looking for new make-up products to help you get ready for these occasions. Whether you're preparing for a festive dinner or an after work catch up with friends or colleagues, Lottie's has launched new make-up items that will help get you ready for the party season and add a touch of glamour to all your looks.
Lottie Eye Foils (AED 33.33)
These iridescent liquid eye shadows will take your eye make-up game to the next level, as they glide on the lids smoothly giving a foil-like glittery effect. The eye foils can be worn on their own or as eye toppers to add a pop of glitter to the centre of the eye lids. The eye foils come in various types of finishes: shimmer, glitter and holographic.
Lottie Lip Foils (AED 37.14)
These iridescent and metallic lip foils can be worn as lip toppers over any lipstick and will instantly transform your make-up looks. The lip foils have a sheer finish and come in a variety of colours from pinks and golds to quirky greens and blues.
Arch Rival Micro-blade (AED 42.86): Inspired by micro-bladed brows that are always on fleek, Lottie's Arch Rival Micro-blade lets you achieve the flawless finish of micro-blading for a fraction of the price. The ultra-fine precision tip allows you to create the smallest of strokes to mimic your natural brow hairs for a straight-from-the-salon look. This product is also long wearing, so you can party all day long without worrying about fading or smudging.
Gloss'd Supercharged Gloss Oil (AED 33.33): This is a unique hybrid between a lip-gloss and lip oil to pump your pout and give you a juicy look. Packed with moisturising ingredients, this lip saviour hydrates and nourishes whilst adding a light wash of colour for fuller-looking lips, delivering explosive shine without the stickiness. The gloss oil comes in 8 different shades to go with all your party makeup looks.
Lottie London's new make-up items are available for purchase at Virgin Megastores and online on Namshi.com and Beautysolutions-me.com.