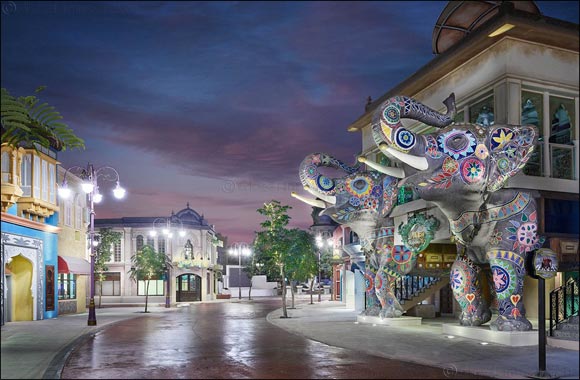 Dubai, 13 November 2018: Well-known singer-songwriter Atif Aslam is set to dazzle visitors when he performs as part of ongoing celebrations this month at BOLLYWOOD PARKS™ Dubai, part of Dubai Parks and Resorts, the largest integrated theme park destination in the Middle East.
Atif, has recorded several top-charts songs, will entertain visitors in front of the stunning Rajmahal Theatre, the flagship attraction set in the heart of the park. The design draws inspiration from the royal palaces of India and creates a lavish backdrop for live shows.
Families will be able to enjoy what is set to be the biggest and most eagerly anticipated concert of the year at BOLLYWOOD PARKS™ Dubai when Atif takes the stage at 8pm on Friday November 23rd. Tickets will be priced at AED49 for guests who would like to visit the park exclusively for the show. However, the price of the performance is included in the price of the standard ticket to BOLLYWOOD PARKS™ Dubai at AED99 for guests who would like to enjoy a full day at the park and for annual pass holders with no additional cost.
Moira Casey, Director of Marketing and Sales, BOLLYWOOD PARKS™ Dubai, said, "We are delighted to announce that the renowned singer and songwriter Atif Aslam will entertain guests at BOLLYWOOD PARKS™ Dubai in November, the go-to family theme park. We encourage all residents and visitors to come down to the park to get a real taste of Bollywood and enjoy a host of Bollywood-themed rides and other attractions."
BOLLYWOOD PARKS™ Dubai, the world's first and only Bollywood-themed attraction, features some of the greatest Bollywood blockbusters. Guests can enjoy a spectacular Broadway-style Bollywood musical -Jaan E Jigar and the chance to meet favourite movie star look-a-like such as Shah Rukh Khan or Amitabh Bachchan. The park has also launched recently a brand-new line-up of street performances filled with energetic music, song and dance, which are showcased every day.