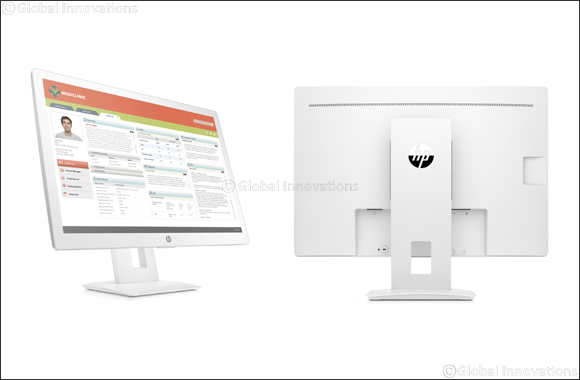 New Clinical Review Displays Optimized for Healthcare Settings
Dubai, UAE, October 23, 2018: The healthcare industry is faced with unique challenges when it comes to safety, workflow efficiency, and security. As the four newest additions to the HP Healthcare Edition portfolio, the HP Healthcare Edition HC271, HC241, HC271p, and HC241p Clinical Review Displays are optimized for patient rooms, nurses' stations, medical carts, and other healthcare settings. These displays are designed to deliver safer, smarter and secured features to enhance care delivery.
The new clinical review displays:
Promote patient safety. Built for easy, repeatable sanitization after every patient engagement, and EN/IEC 60601-1-2 compliant for safe use near patients and medical monitoring equipment.
Deliver out-of-the box image accuracy. The HP Healthcare Edition HC271 and HC241 displays are DICOM Part 14 compliant displays2, . They help ensure accurate, consistent image viewing between healthcare professionals and for patient consultations and image verification with a Quad HD 27-inch or WUXGA 24-inch diagonal display.
Secured for your eyes only. The HP Healthcare Edition HC271p and HC241p displays protect confidential data with an integrated privacy filter2. Deter visual hacks by ensuring the user is the only one with a direct view of their screen.
The HP Healthcare Edition HC271, HC241, HC271p, and HC241p Clinical Review Displays will be available in EMEA in November 2018.
HP and Cerner Work Together to Reinvent the Printing Experience for Healthcare
From patient education, discharge summaries, medication reconciliation, flow sheets, vitals spreadsheets and prescriptions, paper still makes the healthcare world go 'round. However, the printing experience for care providers has not been an easy one. HP is working with Cerner to co-develop a smarter and secured solution to improve efficiency, accuracy and provider satisfaction. The new solution will allow care providers to work and print from anywhere .
The HP Cerner Cloud Print Solution:
Provides mobility. Print patient documentation from where your patient is via your laptop, desktop, tablet or smart phone.
Ensures compliance and security. Complies with patient privacy laws, has end-to-end security and is simple as tap and go.
Delivers efficiency and scalability. Set up printers easily from Cerner Millennium including sites that are remote or not even on the network.
The HP Cerner Cloud Print Solution is expected to be available in EMEA in 2019.