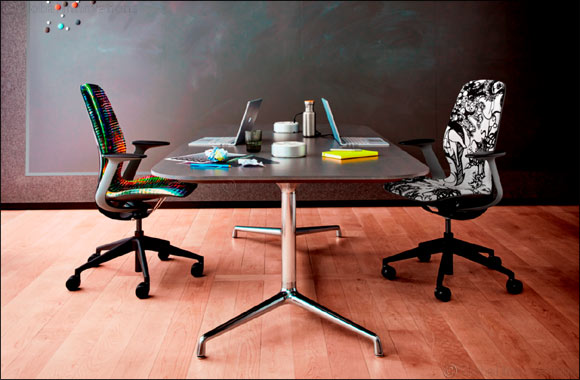 Dubai, 22 October 2018: Global furnishings manufacturer, Steelcase, is bringing the best of intuitive office design to Downtown Design 2018, showcasing its SILQ and Umami Collections publically for the first time in the Middle East, in partnership with authorised dealer Office Inspirations. The range of adaptable chairs and lounge systems are dedicated to creating inspiring places which support the way people work, learn, and engage in today's workplaces.
Crafted from a new high-performance polymer material that emulates the qualities of carbon fibre at a more affordable price, Steelcase's SILQ™ chair is a breakthrough in seating design. Its innovative materiality is both mechanism and artistry, delivering a personal experience by responding to the unique movements of the body.
Umami is a versatile lounge furniture system designed to create spaces where people feel an emotional connection. Its flexible, modular design allows users to create settings unique to organisations and individuals. Multiple shapes, forms, patterns and textures promote variation over uniformity, with a wide variety of material options encouraging creativity and self-expression. Integrated power and sculpted design also supports physical comfort and the ability to do meaningful work, while screens balance the desire for openness with the human need for solitude.
"SILQ™ and Umami are two breakthrough designs for Steelcase. We're excited to be debuting these collections at Downtown Design, and showcasing them to some of the region's most talented and respected designers. Purposeful work deserves meaningful places that blend design, materiality and performance. The needs of the modern workplace are constantly evolving and we always strive to be at the forefront of design that meets those needs," said Hasan Alharbi, Regional Director of Sales, Middle East, Steelcase.
"We believe sharper, engaged employees deliver better results when they occupy healthy, happy and productive environments with furnishings that respond to their needs. Steelcase's SILQ™ and Umami collections are clear examples of research-led, design-driven furnishings which can inspire people to do their best work," added Sinan Hanash, General Manager of Office Inspirations.
Of particular interest to designers visiting Downtown Design will be a selection of winning entries from Steelcase's customisable LessThanFive chair competition. Designed by Michael Young for Steelcase subsidiary Coalesse, the LessThanFive Chair is composed entirely of carbon fibre, allowing it to support up to 300 pounds, while weighing less than five pounds. With its modern form and customisable colour palette, LessThanFive invites personal expression and channels modern craft.
Visit Steelcase and Office Inspirations at stand C03 at Downtown Design from 13 – 16 November 2018.