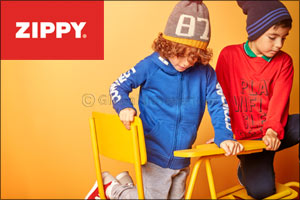 Children's fashion brand introduces looks for all tastes and essentials for a fun and happy season 
Zippy features easy and uncomplicated season for Parents and Children 
Dubai, UAE, September 19, 2018:   Zippy wants to make next season even more special, developing a specific offer that incorporates several versatile looks, with essential products to make daily life easier and happier for kids and parents. 
 
The new collection includes items that are extra preppy, classic and timeless, but with a modern and cheeky twist to meet children's current tastes and needs. 
 
 For girls, there is special focus on skirts, dresses and blouses in navy blue, white and red, as stripes and ruffles continue to set trends. For boys, Oxford shirts remain a safe choice, together with camel chinos, while sweaters and polo shirts in American college prints will continue to delight the little ones. 
 
The School Champions line stands out for its everyday practical pieces, as casual and sportswear come together in the creation of those key items in any child's wardrobe. This academy style is all about denim – with shirts, jeans and skirts -, knitwear, joggers, sneakers, hoodies and sports socks. 
 
 This season would not be perfect without essentials, particularly leggings, joggings, sweaters for boys and girls, or practical and comfortable footwear, where we can also find unisex sneakers. Seeking to offer quality products at the best prices, Zippy's essentials line offers shirts and long sleeves for girls, very colourful, versatile and practical. For boys, sweaters, predominantly in blue and red, with current, cool prints, and basic checked shirts and long sleeves. Highlight also for puffers and vests that are consolidating the brand's value proposition.  
 
Zippy is committed to contributing to children's full development, conveying positive messages that encourage children to excel. Here enters the Heroes line, featuring items alluding to children's heroes like Wonder Woman or Super Man and Batman (Justice League). The goal is to foster imagination and creativity, encouraging children to be whatever and whomever they wish to be, which translates into garments with messages such as "be anything you want" or "be the hero".