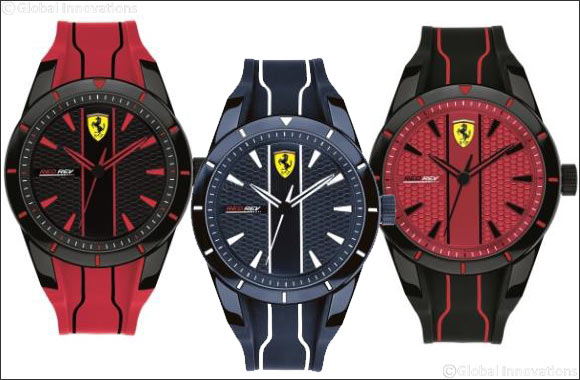 Scuderia Ferrari Fall winter collection presents a line extension to the popular Red Rev Collection
Dubai, UAE, September 12, 2018: The audacious honeycomb structure distinguishing the RedRev wristwatch, with its streamlined and ergonomic shape inspired by the chassis of a racing car.
With its small rounded 44mm and 38mm case is crafted from all stainless steel construction, and finish that calls to mind the dashboard of a Ferrari, this new member of the RedRev family has the unmistakable face with honeycomb structure and the grooved silicone strap inspired by the front grill of a racing car.
The resolute racing spirit of this accessory is accentuated by the strong colour effects created by the red details on the black background and the original smooth stripe that vertically crosses the face, adding a strong touch of excitement.
Ferrari Shield set at 12 o'clock, the new RedRev watch pays homage tp the sports passion of Scuderia Ferrari fans and accessorises all of their outfits with its incomparable grit.
The collection priced at AED 1195 and is available across Hour Choice stores in the UAE.
The prices for the individual watches are embedded in the file name of the watch images for reference.