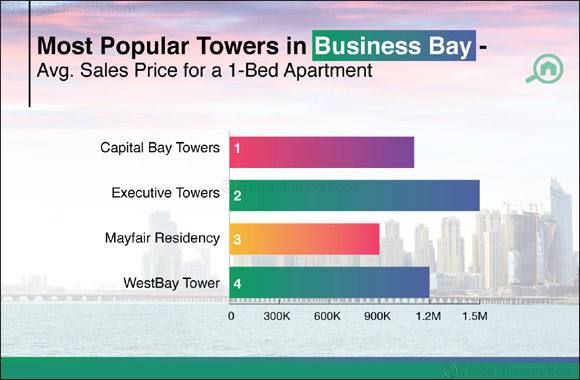 Dubai, UAE, September 12, 2018: One of the most prolific residential and commercial hubs in the city, Business Bay has grown into a coveted cosmopolitan neighbourhood since its launch in 2003. With the sparkling waters of the Dubai Canal adding to its appeal, the area remains a significant player in the Dubai real estate market, 15 years after its initial development. Leading property portal Bayut.com gives a unique insight into the best buildings to invest in Business Bay which is a central hub for property investments in Dubai.
The data from Bayut.com's H1 market report revealed that Business Bay was amongst the top ten areas to buy apartments in the city. The average sale prices for a studio in Business Bay as per the data from the report is AED 725k, while 1-bedroom flats go for AED 1.15M and 2-bedroom units average at AED 1.8M. Price falls have been modest in the region and this area has also broken into the list of top 10 areas for apartment rentals in the city, which signals positive rental yields for investors.
The top spot for buildings to invest in Business Bay is predictably taken by Executive Towers, the flagship development in the area. The famed development by Dubai Properties consists of 12 skyscrapers, featuring apartments of varying sizes, and a few podium villas. The sales prices for apartments in Executive Towers are relatively higher that the rest of the district, with the cost averaging at AED 1.1M for studios, AED 1.5M for 1-bedrooms, AED 2.1M for 2 bedrooms and AED 2.8M for larger 3-bedroom units.
Since the area gets a lot of traffic from working professionals in search of short-term rentals, investors could also look at hotel apartments, such as Damac Maison The Vogue, which was the second most popular building to buy apartments in Business Bay.
Investors looking at the area should note that the West Bay Tower has reasonably priced 1 and 2-bedroom units averaging at AED 1.2M and AED 1.4M respectively, while Capital Bay Towers has some of the best prices for studios in the region, with an average of AED 710k. Mayfair Residency too is a popular choice for affordable 1-bedroom apartments with sales prices averaging at a modest AED 900k.
With highly anticipated projects from Dubai Properties, Binghatti, Deyaar, Omniyat and Damac taking shape in Business Bay, this is certainly one of the best areas to invest in the emirate and one which is guaranteed to remain popular with a wide portfolio of investors and renters.