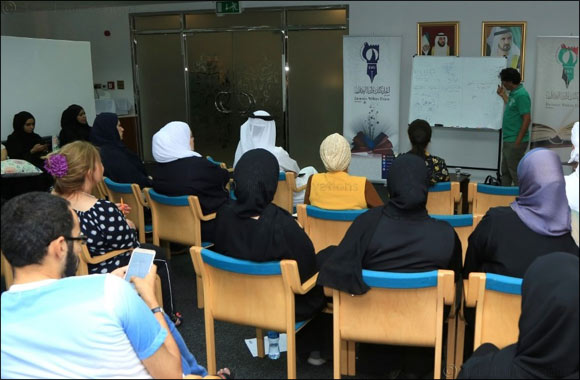 The workshop will be held at the Dubai Public Library - Al Twar Branch until 19th September, 2018
Dubai, United Arab Emirates, 11 September 2018: Dubai Culture & Arts Authority (Dubai Culture), the Emirate's dedicated entity for culture, arts, heritage, and literature, is organising a 'Writing Literature Novels and Editing them as Play Scripts' workshop.
It is held as part of Dubai Programme for Youth Theatre 2018 with the aim to develop the skills of young authors of literary novels in various human and social fields, increase the number of young talents in the field of theatrical composition, and provide the theatre sector with the new scripts that tackle the youth and their subjects of interest.
The workshop will be held in partnership with Dubai Folklore Theatre, at Dubai Public Library - Al Twar branch, and will run until 19th September, 2018.
The workshop is part of the Authority's framework to launch the 12th edition of Dubai Festival for Youth Theatre. It focuses on the rehabilitation and encouragement of veteran writers to write for theatre, and of young people interested in drama to transform Emirati novels into theatrical scripts, in addition to developing the skills of authors to write for theatre.

The festival will take place at the start of October at the Culture and Science Association in Dubai theatre. During this 12th edition, new awards will be conceived and a celebration of artistic and cultural personalities selected from among leading figures in the performing arts sector will take place, enriching the overall atmosphere of the festival.
The festival aims to highlight the creativity of theatre groups in the UAE, and provide a platform to identify the talents and potentials of actors, directors, authors, decorators, producers, makeup experts, sound engineers, visual displays and lighting, and fashion designers.
Dubai Culture aims to enhance Dubai's cultural scene and draw attention to the Emirate's rich heritage with a variety of initiatives that take place throughout the year. The Authority's mandate is to build bridges of constructive dialogue between different civilisations and cultures through enriching initiatives that benefit Dubai's citizens, residents and visitors.