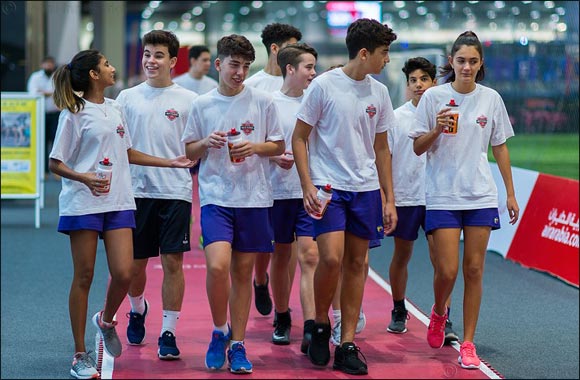 Dubai, UAE, August 18, 2018: Summer fitness initiative sees nearly 200 youngsters cycle over 1,000km in three weeks
As the riders from UAE Team Emirates pick up the plaudits following their performances at this year's Tour de France, the team is also celebrating its influence at a grassroots level, with the success of the recently launched UAE Team Emirates Youth Academy. Nearly 200 budding young cyclists, aged 11 – 16 participated in the three-week program, with the group collectively racking up an impressive 1,000km during 10 hours of pedalling.
The sessions – each designed to replicate the conditions of one of the 21 stages of the Tour de France – also saw the participating kids burn over 25,000 calories and climb the equivalent of 2,000 vertical meters.
The achievements exceed all expectations for UAE Team Emirates, who will now look to build on the success of the Youth Academy with Dubai-based sports activity provider, Just Play.
Commenting on the Youth Academy, UAE Team Emirates' Manager Mauro Gianetti said: "This was an extremely important initiative for the team, that helped show our commitment to developing the sport in the UAE. To have almost 200 youngsters on indoor bikes is amazing, but to see their spirit and determination to cycle that far is really something to be proud of. We must now look at how we can develop the Youth Academy to reach even more youngsters across the UAE, and who knows, maybe we can find and develop the next Yousif Mirza!"
Yousif Mirza, the UAE National Champion who helped launch the Youth Academy ahead of the Tour de France alongside team mate and Norwegian National Champion, Vegard Stake Laengen, was enthused by the outcome of the pilot program and hopes this will be a stepping stone for more youngsters to explore cycling.
"When I attended the launch of the UAE Team Emirates Youth Academy, it filled me with great pride to see so many young people with smiles on their faces whilst riding their bikes. I could not have imagined the Youth Academy would have this big an impact and I feel privileged to be part of a team that is having such a positive influence on the health and wellbeing of people in this great nation," said Mirza.
The bespoke coaching clinics, which coincided with the world's most prestigious bike race, the Tour de France, taught youngsters the basics of indoor cycling, using professional training bikes in a purpose built, air-conditioned studio. Each session has was designed in collaboration with UAE Team Emirates' staff and the team's top riders.
Anouar Idrissi, CEO of Just Play said: "At Just Play, we share UAE Team Emirates' vision for a more active society – so the UAE Team Emirates Youth Academy was a welcome addition to our summer camp offering and we were delighted to see so many enthusiastic youngsters take part. It is an exciting time for the sport in the region and we are looking forward to building on our partnership with the team over the coming months."
The final Youth Academy session coincided with the triumphs of UAE Team Emirates' European Champion, Alexander Kristoff, who picked up the prestigious Stage 21 win in Paris on the final day of the Tour de France. Commenting on his result and the impact it will have, Kristoff said: "I think the team and our fans across the world should be very pleased with the team's performance. Every one gave it their all and we hope that it can be a platform to inspire our fans, particularly those in the UAE, to head out on their bicycles. Hopefully my win in Paris can inspire us [UAE Team Emirates] to produce more fantastic results for the UAE fans, who are surely celebrating this victory in the Year of Zayed."