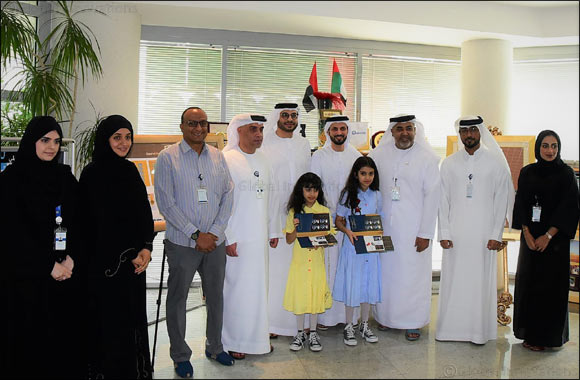 Stamps issued celebrating 34 years of diplomatic relations between the UAE and China in high-demand
Dubai, (31) July 2018: Emirates Post Group (EPG), the region's leading postal and non-postal services provider, has witnessed a high demand for the latest stamp celebrating 34 years of diplomatic relations between the United Arab Emirates and the People's Republic of China issued to mark the historic visit of Chinese President Xi Jinping to the UAE.
One such request was received by 8-year-young philatelist Asmaa Humaid Issa Alsuwaidi who contacted EPG through its social media channels. Asmaa, along with her sister 10-year-old Afra Humaid Issa Alsuwaidi, also an avid philatelist, were gifted the stamp by the Group's Acting Chief Commercial Director, Obaid Mohammed Al Qatami and Yousif Mohammed Siddiq Al Khaja, Chief Happiness & Positivity Officer, at the Philatelic Centre headquarters located at the Deira Main Post Office.
"Asmaa was one of the very first registered philatelists to seek this latest commemorative stamp," said Al Qatami, "At Emirates Post Group we look for ways to encourage the art of stamp collecting. It is an educational, goal-oriented hobby that creates a community of diversity, as well as an appreciation for art and history. We are delighted to foster the love of stamps and as soon as the latest issuance became available for the public, we reached out to Asmaa and her sister".
"Philately does not require any special skills or great wealth. Some, as young as four years old, begin collecting stamps and appreciating them as precious pieces of art that carry a wealth of knowledge," added Al Khaja. "There is a sense of happiness and joy in finding that rare stamp, or when an album is filled and a new one is started".
The stamps are now available at Emirates Philatelic Centres across the UAE and bear three design executions, one with the portrait of the President of the UAE, His Highness Sheikh Khalifa bin Zayed Al Nahyan, another with the portrait of the President of the People's Republic of China, and the third displaying the flags of both nations.
The commemorative stamps are for sale at 3 dirhams and 13 dirhams for the First-Day cover sheets.