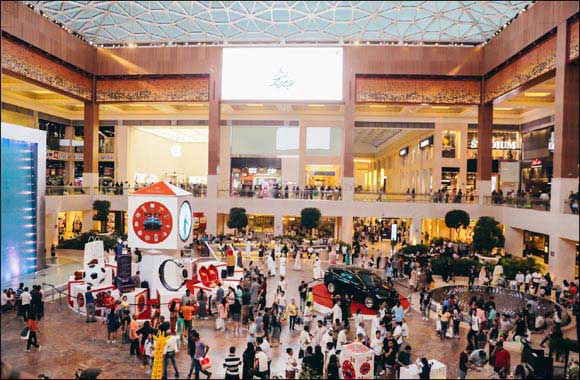 In partnership with the Department of Economic Development, Al Masaood Automobiles, Zomato, Rayna Tours, MBC Group, Yak Events, Xceed Events and Envie Events
Abu Dhabi, 4 July 2018: The Department of Culture and Tourism – Abu Dhabi (DCT Abu Dhabi) has teamed up with eight organisations in the tourism sector in Abu Dhabi to offer the best edition of Abu Dhabi Summer Season.
The Abu Dhabi Department of Economic Development (DED), Al Masaood Automobiles, Zomato, Rayna Tours, MBC Group, Yak Events, Xceed Events and Envie Events are all collaborating with DCT Abu Dhabi to offer visitors and residents a unique line-up of events and promotions to enjoy throughout the summer.
HE Sultan Al Mutawa Al Dhaheri, Executive Director of the Tourism Sector at DCT Abu Dhabi, said: 'We would like to thank our partners for their support as we work together on delivering the best edition of Abu Dhabi Summer Season to date. This year's expanded season – in both size and scale – will allow residents and visitors ample opportunity to immerse themselves and experience Abu Dhabi's numerous tourism offerings, from hotels to restaurants. DCT Abu Dhabi is focused on cementing the Emirate's position as a preferred holiday destination throughout the summer season with unmatched tourism offerings."
DED has partnered with DCT Abu Dhabi to present the unique shop and win promotion, scheduled to take place from June 29th – August 18th. Entitled 'Unbox the Amazing', the promotion gives UAE residents and visitors the chance to win a host of exciting prizes and deals, and also includes sales of up to 80%-off across 20 of the Emirate's malls. One of two unique retail promotions, the 'Unbox the Amazing' campaign will run side-by-side with a car raffle draw for four Nissan Patrol cars, provided by Al Masaood Automobiles. Shoppers will be able to participate in these exciting promotions at 20 malls in Abu Dhabi, including Marina Mall, Khalidyah Mall, Deerfields, Dalma Mall, Bawabat Al Sharq, Al Wahda Mall, Hili Mall, WTC Mall, Yas Mall, Al Raha Mall, City Mall, Al Ain Mall, Mushrif Mall, Mazyad Mall, Madinat Zayed, Bawadi Mall, Barari Mall, Ruwais Mall, Al Foah Mall and Jimi Mall. There will also be a variety of entertainment activations for customers, including musical and performing acts every weekend throughout the Season.
DCT Abu Dhabi has also partnered with Zomato this year, to offer Abu Dhabi a series of unbeatable F&B deals, both dine-in and online during ADSS. Titled ADSS Zomato Experience, the offer presents F&B summer packages at more than 200 participating restaurants. The Abu Dhabi Summer Season Family Package will offer Zomato Gold Memberships at a 25% discount for members to enjoy mouthwatering meals across more than 200 restaurants, while the Abu Dhabi Summer Season Traveller Package is a special 15-day subscription for tourists visiting Abu Dhabi during ADSS. Throughout the summer season, restaurants across the city will also be serving up a Zomato-branded AED15 kids menu for kids aged 13 and under, specially curated for ADSS. Lastly, ADSS Culinary Weeks will feature a series of themed weeks, where a different culinary region will be highlighted each week by Zomato for customers to take advantage of a 25% discount at 25 restaurants when dining out.
Partnering with Rayna Tours, ADSS 2018 will create a series of bundle deals with the all-new 'My Abu Dhabi Summer Pass'. Featuring a combination of special promotions on attractions and city tours, this pre-paid pass will be available for the very first time this summer and allow consumers to save up to 50% on some of Abu Dhabi's much-loved attractions, tours, and more. All they need to do is present their pass at participating venues and enter cash-free. Valid from 21st June to 18th August, the pass consists of three tiered packages with prices ranging between AED 230 to AED 1100 for experiencing up to 16 attractions, and savings from 25% to 50%.
Event groups including Yak Events, Xceed Events and Envie Event will host exciting events to entertain family members of all ages, bringing the most popular and favourite characters from renowned shows to the UAE capital, including the Nickelodeon Experience (August 6th – 15th) presented by MBC Group, Around the World (July 5th – August 14th) by Bawadi Mall, Unite with Tomorrowland (July 28th) by Envie Events at du Forum, and ALLDAYLIVE (July 26th – 28th) at Emirates Palace, and Sparkles of India (August 16th-18th) at du Forum by Yak Events.