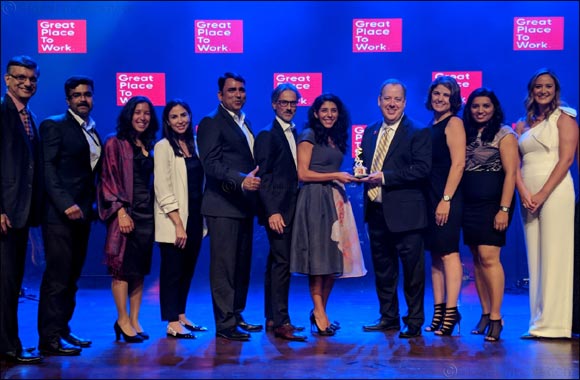 Dubai, UAE, June 25, 2018: Royal Philips (NYSE: PHG, AEX: PHIA), a global leader in health technology, was ranked as one of the best places to work for in the United Arab Emirates (UAE) by Great Place to Work (GPTW).
The recognition is in line with Philips objectives of fostering a collaborative working environment that is driven towards performance excellence. Philips' people strategy focuses on three core pillars that guide the company's initiatives and practices across the Middle East. This creates a culture of performance, promoting diversity and inclusion as well as building a workforce of the future.
Ozlem Fidanci, Philips CEO Middle East and Turkey said, "We are proud to be recognized as one of the greatest places to work in the UAE. Philips' goal is to improve the lives of three billion people a year by 2025. Across the Middle East and Turkey (MET) alone, the company has managed to improve the lives of 110 million people. At the heart of the company's success is a highly motivated and experienced team that thrives in a corporate culture, combining superb teamwork and a passion for excellence to continually deliver the best possible service and solutions."
Furthermore, Therese Schultz, Philips Head of HR Middle East and Turkey also said, "In the Middle East, our workforce includes 56 different nationalities. Our policies and procedures emphasise the importance of inclusiveness, and ones which reflect the importance of the immense cultural diversity found across our team. We have a mission to improve our own people's lives through our health and wellbeing agenda. Throughout the year, we run a broad range of employee focused programs, as part of the Philips volunteering policy, which grants every employee paid time off against volunteering activities. This has resulted in strong engagement scores amongst our teams over the course of 2017, which are above global high performing norms."
"In addition, Philips deploys an annual MET learning week, which is a leader led development forum that includes in-house leaders as well as experts with the underlying aim to share experience and knowledge with the wider team and create an engaging experience," added Schultz.
Philips was ranked at number 11 amongst the 'Best Workplaces in the UAE', by Great Place to Work, UAE 2017-2018. In the Middle East and Turkey, the company gained strong engagement scores from their teams in 2017 through increased employee participation and improved employee scores.
The GPTW ranking is based on the level of credibility, respect, fairness, pride and camaraderie within an organisation.