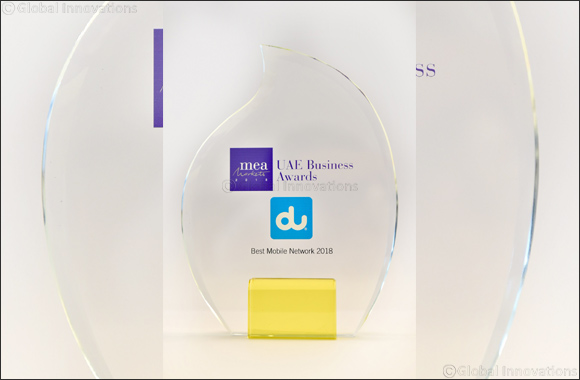 The magasine's UAE Business Awards recognise enterprises and individuals for the region's best products and services
Dubai, UAE, 13 June 2018: du, from Emirates Integrated Telecommunication Company (EITC), was honoured and excited to accept the award for Best Mobile Network at this year's UAE Business Awards hosted by MEA Markets Magazine. Now in its second year, the UAE Business Awards are based purely on merit and provide an opportunity to recognise business talent and achievements in the UAE as one of the world's fastest developing markets. The 2018 UAE Best Mobile Network award recognises superior mobile network performance and offerings in comparison to competitors in the UAE.
"As a company dedicated to providing superior service and connectivity for our customers across the UAE, we are deeply honoured to receive MEA Markets Magazine's 2018 UAE Best Mobile Network Award," said Fahad Al Hassawi, Deputy Chief Executive Officer - Telco Services, Emirates Integrated Telecommunications Company. "We take immense pride in our position as the leading telecommunications provider in the UAE; and we see this award not only as a testament to our hard work in recent years, but as an incentive to continue innovating and finding new ways to add life to life for our valued customers."
Award recipients are determined by way of an extremely methodical process beginning with nomination by the organisation in question, a third party, or the publication. Then voting takes place, which is open to the general public along with the magasine's highly targeted circulation, followed by a vetting process wherein the magasine's distinguished in-house research team spends six weeks conducting market research and finding relevant firms to whom voting forms are directly distributed. All awards nominees are given the chance to accept or decline a nomination.
Upon proceeding with nomination, organisations are added to a shortlist and may provide the publication with supplementary information in support of the nomination. After receiving all supplementary evidence, MEA Markets Magazine's in-house research team conducts its own investigations into nominations and nominees to create a case file, then determines winners based on the case file, supporting documentation, and votes.