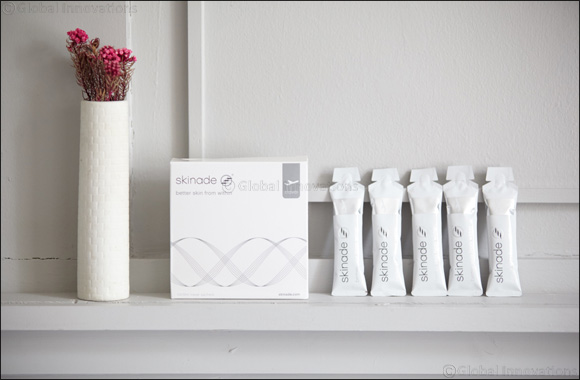 Travel beauty made easy with Skinade
Dubai, UAE, June 10, 2018: Summer vacations are almost upon us and if you're wondering which beauty essentials to pack for your summer holiday, look no further than skinade, the multi-award-winning collagen beauty drink.
It's a fact that travelling can indeed wreak havoc on your skin. Proper cleansing and hydration can definitely help your skin manage the stress and keep it looking beautiful throughout your trip. This means applying moisturisers, using hydrating sprays and drinking plenty of water. Multi-tasking beauty products are a must so that you are able to travel light, especially if you are limited to carry-on baggage. That's where skinade comes in!
The natural peach and mangosteen flavoured anti-ageing collagen drink contains a patent pending formulation of active ingredients that aims to boost your body's natural production of collagen and hyaluronic acid. It aims to improve the way your skin looks and feels in as little as 30 days!
Not only does skinade reduce the appearance of fine lines and wrinkles, but it also increases the skin's hydration levels, radiance, suppleness and allows for healthier looking hair and nails.
The 150 ml skinade 'ready-to-drink' bottles are also available in 15ml travel sachets that can simply be diluted in water, with both products having exactly the same efficacy. Lighter than carrying the bottles and safe to carry in-flight, skinade is the perfect travel companion thanks to its handy size, extraordinary skin hydration benefits and energy boosting properties thanks to the inclusion of Vitamins B and C. By making skinade a part of your daily skincare regime before and during travel, you are guaranteed a gorgeous glow on your summer getaway! Not only that, but you can limit the number of skincare products you would need to pack in your cosmetics case.
Skinade 15ml travel sachets are sold in courses: 30 days, 60 days and 90 days. Skinade prices start from AED 800 for a 30-day supply and are available from Iwona Specialty Clinic, Sansaya Cosmetic Surgery and Dental Clinic, Euromed Medical Center, Rose Arbaji, So Spa – Sofitel, The Palm and Kalm Holistic Beauty.