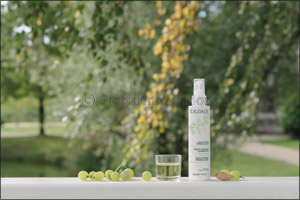 "From the moment Caudalie was created, I wanted to help women find the best beauty regimen. Caudalie's cleansing collection is formulated with the best natural ingredients and has a product that matches your needs, whatever your skin type. After all, a clear, fresh and young-looking skin starts from a good cleansing routine" - Mathilde Thomas
Dubai, UAE, May 21, 2018: The first step in your beauty ritual should always start with cleansing. Our dermis is exposed to different environmental factors such as pollution, air conditioning or heating in winter, all of which contribute to irritate our skin and clog our pores.
Choosing a suitable cleanser for your skin is not only about removing your makeup, dead cells, dirt and oil, it is the key to healthy, luminous, clean skin.
Discover your new favourite cleanser in Caudalie's cleansing collection.
DISCOVER THE TEXTURES
Caudalie offers you four different textures to choose from, all suitable for all skin types and formulated with at least 90% of natural-origin ingredients for healthy and thoroughly cleansed skin and a sensory experience.
INSTANT FOAMING CLEANSER
Caudalie's hero cleanser is perfect for combination and oily skin.
This light, airy, soap-free foam respects the natural PH balance of the skin while cleansing it.
With moisturising grape extract, purifying sage and soothing chamomile extract, Caudalie's Instant Foaming Cleanser will restore the radiance of your complexion whilst leaving it with a lovely comforting feel.
Natural ingredients
98%
"Gently cleanses the skin"
95%**
MAKE-UP REMOVING CLEANSING OIL
The perfect texture for those with normal and dry skin. Caudalie's Cleansing Oil contains no silicones, mineral oils or preservatives.
This super gentle formula is a combination of moisturising grape- seed oil sweet almond oil and sunflower and castor oils. Now, it comes in a brand-new size of 150ml for longer-lasting indulgence.
100%
Natural
"Perfectly cleanses the face"
95%*
MICELLAR CLEANSING WATER
Perfect for all skin types including sensitive skin. Formulated with cleansing micelles to attract water and oil-based impurities as well as cleansing agents to lift dirt from the skin. Its refreshing formula with bio-moisturising Grape water and soothing chamomile simultaneously hydrates and soothes for perfectly clean skin.
Natural ingredients
98%
"Simultaneously cleanses skin and removes makeup"
92%***
* Use test, % of satisfaction, 38 women, 28 days. ** Use test, % of satisfaction, 20 women, 21 days. *** Use test, % of satisfaction, 24 women, 7 days.
After your skin is cleansed, revitalise your complexion and seal and shrink the appearances of pores with Caudalie's Moisturizing Toner.
Highly concentrated with moisture-rich Vinolevure®, this alcohol-free formula effectively softens and hydrates skin.
Make-up Removing Cleansing Oil - 110 AED
Instant Foaming Cleanser - 99 AED
Micellar Cleansing Water - 99 AED
Gentle Cleansing Milk - 99 AED
Moisturizing Toner – 99 AED
MIX IT UP!
Because your skin doesn't have the same needs everyday, why cleanse it the same way?
Pick and mix to discover new textures and sensations for a bespoke cleansing ritual - because routine shouldn't mean boring!
Oil + Foam :
Treat your skin with a silky lather that's especially recommended for sensitive skin.
Foam + Deep Cleansing Exfoliator :
A "whipped cream" texture that purifies and deep cleans your skin to restore its natural radiance.
Milk + Foam :
A creamy combination with a delicate texture for a feeling of extreme comfort.
Available from April 2018 in pharmacies, drugstores and Sephora.