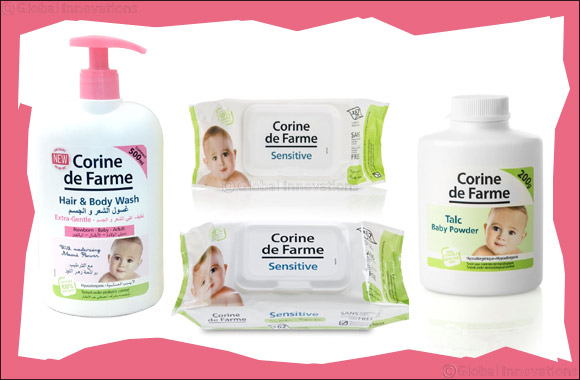 Dubai, UAE, May 17, 2018: When thinking about caring for your baby's skin, think about Corine de Farme and you won't go wrong. And here's what parents need to know - Corine de Farme products and toiletries are en-riched with extracts that are 100% natural, and they help maintain babies' fragile skin. They are made with organic Calendula, better known as marigold flower, which is very effective in pre-venting rashes and in treating skin issues because of its softening, anti-inflammatory and sooth-ing properties. All Corine de Farme products are also hypoallergenic, paraben free and derma-tologically tested.
Here are some great essential picks for your baby:
Corine De Farme Sensitive Wipes (AED 15)
These perfume-free wipes will cleanse and gently refresh your baby's delicate skin with its softening properties. The wipes cleanse completely without irritating the skin, leaving it feeling fresh and natural.
Corine De Farme Extra-Gentle Hair & Body Wash (AED 24)
Because what is good for baby's sensitive skin is also good for the whole family, the sulfate-free and soap-free Extra-Gentle Hair & Body Wash is perfect to very gently cleanse newborns', ba-bies' and adults' sensitive skin and delicate hair. Enriched with Almond Flower extract known for its softening and moisturizing properties, it reduces the risk of skin drying out and leaves skin soft, moisturized and lightly scented. Hair is smooth and silky after use.
Corine De Farme Talc Powder (AED 15)
This helps absorb the excess moisture from the skin and fights redness. It's recommended to use the powder often, especially during summer. It keeps the skin velvety soft and provides re-lief from nappy rashes too.