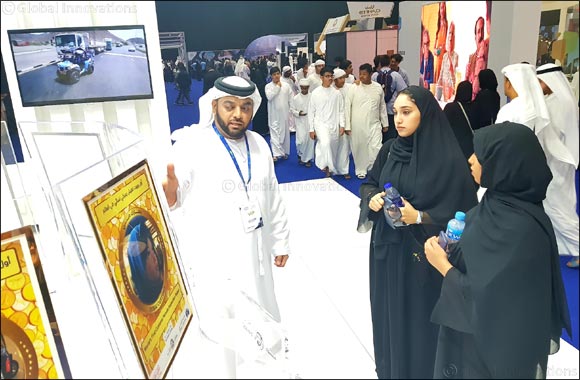 Dubai – 16 April 2018: Dubai Customs took part in the Think Science Fair 2018, held from April 16 to 18 at Dubai World Trade Centre under the patronage of HH Sheikh Abdullah Bin Zayed Al Nahyan, UAE Foreign Minister.
Such events like Think Science Fair are highly important to Dubai Customs which looks at knowledge and innovation as pillars to develop and thrive today.
On the first day of the Fair, Dubai Customs showcased 11 innovations that were built and created in-house. These included an amphibian inspection buggy, a mobile inspection lab, a remote integrated container inspection system, a smart inspection system in the airports, a customs clearance buggy, and a robotic inspection system for ladies.
Dubai Customs' stand at the fair saw heavy footfall from school and college students who were eager to learn about the latest inventions, and how Dubai Customs works to encourage creativity amongst its employees. These ideas and inventions are meant in the first place to facilitate trade and secure society in support of Dubai Plan 2021.
Hussain Al Fardan. Head of Innovation Center said:" We are making innovation a daily practice in Dubai Customs on which to build the foundations artificial intelligence and future sciences in support of the UAE Vision 2021 and Dubai Plan 2021. Our most valuable asset in the Department is our employees. We took big strides in training them and honing their skills to uplift performance levels in order to facilitate flow of passenger and cargo traffic".
The Emirates Foundation's Think Science Fair is a three-day event mixing science with fun. The fair is showcasing the innovations of hundreds of high school and university youth competing in the Foundation's national "Think Science Competition". The Think Science Fair is one of the biggest events of its kind in the region that attracts thousands of visitors every year, and encourages cooperation and interaction between young scientists and science and technology business sector.
Al Furdan added:" A total of 26,028 ideas were submitted to the Department between 2004 and 2017, which led to AED 1.7 of revenues and more than 120 awards".