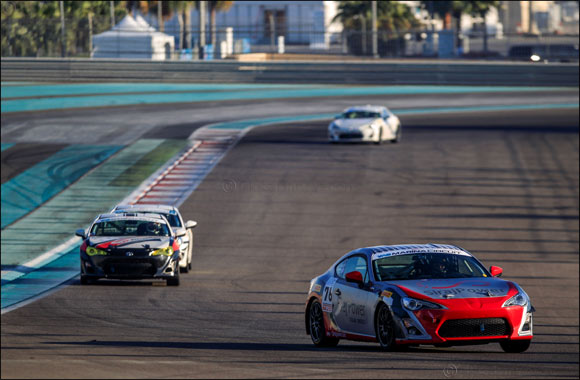 Yas Marina Circuit, Abu Dhabi, 22 March 2018: Saif Al Ameri not only finished in second and first place in the two races of Round 6 of last weekend's TRD 86 Cup, but his total points tally means he has won the championship outright.
As the drivers lined up for the final time in the 2017-18 season – the fourth in its history – Saif Al Ameri bravely fought off the challenge from Mohammed Abdul Ghaffar Hussain, but was just pipped to the post in Race 1, making do with second place 10.2 seconds behind his rival, with Jeremy Loisel taking third spot.
His fellow competitors did their best to catch Al Ameri in Race 2, but the Emirati driver proved too fast, and crossed the line in first place two-tenths of a second ahead of Mohammed Abdul Ghaffar Hussain, with Ahmed Al Moosa slotting into a comfortable third place while the rest of the pack trailed almost 10 seconds behind the top three.
The outstanding performance by Saif Al Ameri across all six rounds of the season means that he tops the leaderboard with a total of 212 points and was crowned overall champion at Friday's podium ceremony, drawing to a close the 2017-18 season of the TRD 86 Cup.
Mohammed Abdul Ghaffar Hussain ranked second overall with 172 points across the six rounds, well ahead of his fellow UAE countryman Ahmad Al Moosa on 134 points, with the champion of the three previous seasons, Karim Al Azhari coming fourth overall with a total of 96.
The next season of the TRD 86 Cup will be back in the autumn, with dates and more details to be confirmed in the near future.