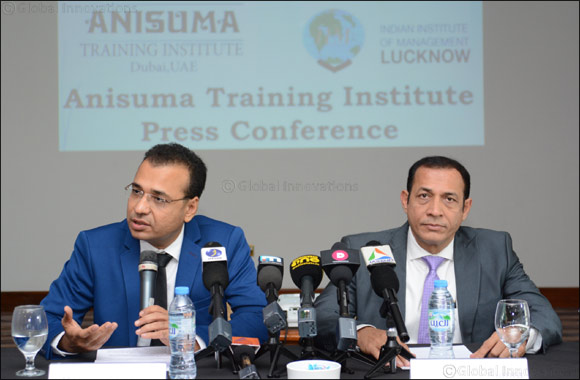 IIM-Lucknow makes its first international footprint with Executive Education in Dubai
Launches "Anisuma Training Institute" for Executive Education in the region, partners with IIM-Lucknow to offer its first program.
Collaborations with other global schools planned for future.
March 21, 2018; Dubai, UAE: With the aim of providing quality executive education for the working professionals in the region and diversifying its current business portfolio, Jacky's Group of Companies has announced its foray into the promising UAE education sector. Anisuma Training Institute, the latest venture from the group will be taking lead in providing Executive Education and Training Programs to enhance the managerial capabilities of senior executives and mid-career professionals to prepare them for senior management positions.
In an exclusive tie-up with the prestigious Indian Institute of Management Lucknow (IIML) for its very first program, Anisuma will be offering General Management Program for Executives (GMPe), the flagship executive program designed, developed and delivered by IIML in association with Anisuma Training Institute and specially designed to cater to the needs to UAE workforce.
Explaining the concept, Mahesh Chotrani, Asst. Vice President, Jacky's Electronics and Founder Director, Anisuma Training Institute said: "Education has always been very close to our heart and we believe it is our responsibility to give back to the society by providing for quality education in the region. Our strong educational background personally prompted us to move into the education domain. The idea is to facilitate quality education by means of rich content and delivery and at an affordable cost.
"The world of business is constantly evolving, and for career-enhancement it is imperative to stay on top by understanding and applying those changes, this is where mid-career education is not just important; but sometimes necessary. The GMPe program at Anisuma has been designed accordingly; it's intensive, practical and relevant to current business climate. The course learning is only through Case Studies and articles from top Business Schools globally including the prestigious Harvard Business School. The program is unique and exclusively designed to meet the needs of UAE professionals while keeping in mind their ever demanding work situation. For practical purposes the classes will be held one-weekend every month and all the sessions will be face-to-face with IIM L faculty members who will be flying from India to conduct the sessions. The course will conclude with the students spending 5 days at the IIM Lucknow Campus".
Talking about the partnership with IIM-L and future plans of Anisuma, Mr. Manohar Punjabi – Executive Director, Jacky's Group of Companies and Founder Director, Anisuma Training Institute said "We feel honored to partner with IIM Lucknow, one of the top business schools globally and an institution recognized world over for its excellent standards of Executive Education. This is just the beginning and, down the road, we will continue to tie up with the best institutes across the globe to offer quality training and executive education in the Middle East region. We are pleased to announce that we will be launching the second batch of GMPe in May 2018, offering other programs from IIM-L that include Leadership & HR, Marketing, Sales and Distribution, Financial Management and Strategic Management. Eventually, Anisuma Training institute will further venture into the fields of lifestyle and healthcare in the near future".
Commenting on the program, Prof. Rajeev Kumra, Program Director, IIM –Lucknow said, "This 22-day long intensive program will spread over 9 months, and will be conducted on weekends with 17 days in Dubai and 5 days in IIM Lucknow campus. The program has been meticulously designed to inculcate strong conceptual frameworks in Business and Management Skills, allowing working executives to return to the classroom for a weekend every month and acquire knowledge and specialized skills. The program has been designed to adapt to the business practices in the region, it will offer professionals a holistic overview of business and help them connect dots between the various aspects of business management. The program will also assist entrepreneurs to fine tune their businesses by offering them better understanding of management and business principles.
The certificate program is open to all nationalities who have minimum 7 years of professional experience and have earned at least a Bachelor's degree. The 1st batch of GMPe- IIM-L in Dubai starts on 21st March, 2018 and batch has 32 participants. The program will be concluded in November, 2018 at the IIM-L Campus. The participants will have a Valedictory Ceremony and receive a certification as well as Alumnus status from the prestigious institute.