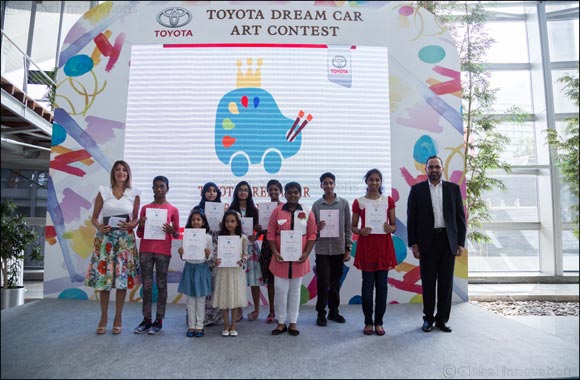 Dubai, United Arab Emirates, 20 March 2018: Al-Futtaim Toyota, leader in sustainable mobility since 2008, sees around 50% increase in the number of participants in the 4th UAE edition of the 12th global Toyota Dream Car Art Contest.
Over 2,000 children aged 5 to 15 from 45 UAE schools have participated in Toyota's global initiative, designed to encourage design of future responsible cars, aiming at making the world a better place, through a platform for creative expressions by young artists.
30 finalists will be invited by Al-Futtaim Toyota to the local award ceremony and exhibition in May, where 9 local Gold, Silver and Bronze category winners across three age groups will be announced. The 9 winners' artwork will be submitted to the global competition held in Japan in the summer, to compete against other entries from over 80 participating countries, holding a chance to win a trip to Japan *
"The level of creativity in the entries never fail to surprise us, so we look forward to seeing how the children imagine the future mobility to be" said Saud Abbasi, Managing Director of Al-Futtaim Toyota.
The criteria to judge the submitted artwork revolves around uniqueness and execution of concept, as well as the child's artistic ability.