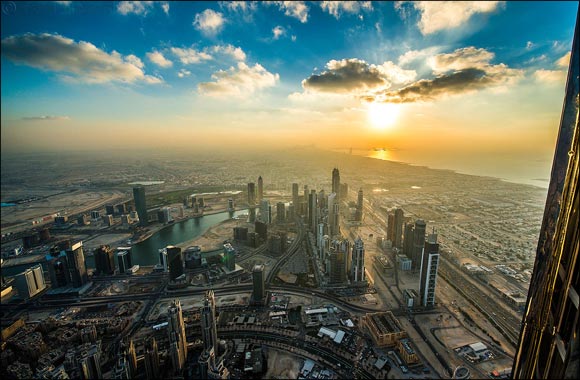 Dubai, UAE, March 15, 2018: "I was 35 in December 2012 when my long-term girlfriend (now my wife) and I moved from Orpington in Kent to Dubai in the United Arab Emirates – and it hadn't been an easy decision to make, far from it in fact.
"Orpington is a large suburban town about 16 miles south of Central London. I had lived there all my life – with my parents and siblings until my late 20s, and from then on with my girlfriend. I had worked in London (a few different jobs, but mainly as a Civil Servant) since I was 16.
"When I was 33, I took voluntary redundancy from a finance role with a charity, a job in which I had stagnated and become distinctly unhappy.
"My CV just screamed finance. The problem? I didn't like finance. I never had.
"After taking voluntary redundancy, work had been hard to come by. A few finance temp jobs here and there, but nothing of any substance. So, even though my girlfriend had a good, well-paid job, thoughts turned to pastures new and putting ourselves in a stronger financial position."
A fresh start
"Dubai was the natural choice for us. Why? My wife's family had lived in the region since the late 1990s, and were all currently living in Dubai. We were fortunate enough to have a support network already in place when we made the big move. We had visited several times so were reasonably familiar with the place, although I do feel compelled to make the obvious point that living somewhere is very different to holidaying there.
"It was an attractive destination for other reasons aside from family and familiarity - tax-free salaries, hot and sunny climate, potentially more luxurious lifestyle and last, but far from least, the opportunity of a fresh start.
"What were the negatives to potentially leaving the UK? I can't stress how hard a decision it was. The choice to leave our lives as we knew them, my ageing parents, our friends, my hometown of 35 years, and even our budgie, Remi, was one that weighed heavily on our shoulders for a long time. Once we removed emotion as much as possible from the debate, the clinching factor was that, due to our ages, it was a bit of a now-or-never situation!"
Making the move
"The move itself wasn't a whole lot of fun. We cleared up our rented flat, sold what we could, gave other bits to various charity shops, packed some belongings to be shipped out (they took about two months to arrive in Dubai) and moved in with my parents for the two weeks preceding our departure. Even though the impending goodbye was drawing closer, there was a lingering excitement as to what lie ahead.
"We moved to Dubai on December 12th 2012 and on our arrival moved in with my wife's parents, as we had previously planned. They had a large house which allowed them to give us our own area, like a small apartment, with an en-suite and balcony. It's another example of how fortunate we were to have a support network already in place. We enjoyed Christmas and the rest of December (in truth, it still felt like a holiday at that stage) but once January came, it was time to start job hunting."
The job hunt ensued
"After seven solid months of intense searching (joining job agencies, using online recruitment tools, contacts of friends and family, LinkedIn) and a generous amount of applications, I got a job as an EPG (Electronic Programme Guide) and On-Demand Editor at a TV company based in Dubai's Media City. It meant a great deal to me because what seemed like an impossibility in the UK, due to the finance-based nature of my CV, was slowly becoming a reality. The job included considerable amounts of creative writing, proofreading and editing – which is what I've always wanted to do.
"My wife got a job as a PA with a well-established British company a couple of months later. We landed the jobs just in time – it was at the stage when we were beginning to wonder how much longer we could afford to continue living in Dubai. After getting our jobs, we moved into a lovely one-bedroom apartment in November 2013 and still live there now."
A reality check
"There are a few aspects of living in Dubai, based upon our experience, which expats may find useful if they are thinking of moving here. For instance, it can be tempting to get carried away with the lifestyle here and start spending more than you would have in your home country. So, it's important for expats to be aware of potential financial pitfalls.
"Although Dubai is supposedly tax-free, there are a considerable number of other fees and charges that appear on monthly utility bills and the like. These are similar to taxes in everything but name. It should also be noted that while the salaries here are much higher due to no tax being applied, Dubai is the second most expensive city in the Middle East for expats. The cost of living in general (food shopping, eating out, alcohol, electronics) can work out much higher than the UK.
"When it comes to healthcare, it's important to note that it is illegal for an employer to not provide healthcare insurance for its employees. However, these policies can vary in quality depending on who your employer is (for example, very few policies have dental included). It's also important to note that the policy from your employer may not cover your children or other dependents, which is why you should consider putting in place global health insurance when living here in the UAE. There are public hospitals available but they may not be up to the high-quality standards you are used to, especially if you are from a Western country.
"One great thing about living in Dubai is the large number of UK expats, which helps when trying to make friends. Receiving help and advice from people who have previously been in your position as a new expat can also be invaluable.
"Other than the higher average salaries than that is found in the UK, there's plenty of aspects to life in Dubai that make it an attractive place to live. For instance, the knowledge that Dubai and the UAE in general has a considerably low crime rate, should hopefully bring comfort to expats moving here and make them feel safe.
"On Fridays, all-you-can-eat-and-drink brunches are very much a Dubai tradition and an enjoyable one at that. From beautiful beaches, five-star hotels and world-class restaurants to super-sized malls and state-of-the art multiplex cinemas, Dubai offers plenty to do, see and experience."
No regrets
"So, there you have it – that's our story. I'll conclude by saying that aside from the jobless months, I have never regretted our move. Like many expats who move abroad, I miss my family, friends, and all the smaller aspects of life in the UK that can often be taken for granted when living in another country. The one thing I do not miss however, is the weather!
"Looking at what Dubai has to offer in comparison with what we were used to in the UK in terms of finances, lifestyle, and healthcare, I can only come to the conclusion that, thankfully, relocating was the right decision.
"In sharing our story, I sincerely hope that our insight will be a great help to anyone thinking of moving to Dubai, or anyone who has recently made the move."