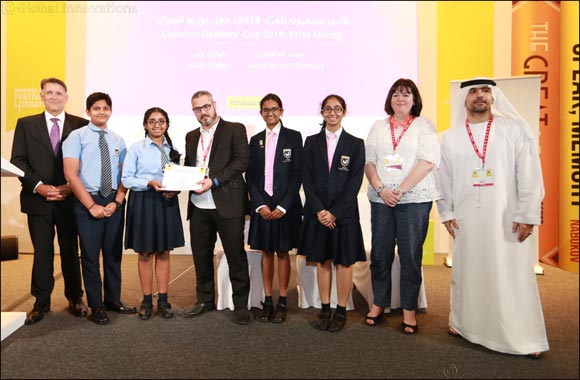 Another Triumphant Year for the Chevron Readers' Cup Concludes
Dubai, 10 March 2018: Winners of the UAE's annual book battle, the Chevron Readers' Cup, were declared at the Emirates Airline Festival of Literature today. The reading quiz concluded its most successful year since its inception with almost 3000 students from schools across the GCC participating.
67 teams competed in the finals, which were held in Arabic and English in two age groups – Primary and Secondary. Teams answered questions from a list of books by Festival authors and the winners were awarded trophies, certificates and book vouchers.
This year marks the seventh year Chevron has sponsored the competition, which has become an integral part of the company's event calendar. As an annual moderator of the competition, Christopher Bradley, Chevron Alkhalij Country Chairman & General Manager Middle East Joint Ventures & Aviation for UAE, said: 'The growth of this competition has been astounding and a pleasure to be a part of. The Festival makes reading accessible and fun for students around the region, which is an important step in inculcating a love for literature and for fostering a knowledgeable and learned society. These are key pillars in Chevron's aim to support education communities in our areas of operation. We wish all the participants and winners the best as they have gained valuable insight into the world through these books and are already a step ahead in their learning journeys.'
The winners in the Arabic Primary category were:
First: The New Academic School - The Positive
Second: Zahrat Al Mada'en School, Ras Al Khaimah - The Smart Team
Third: The International Academic School - The Smart
In the Secondary category, the winners were:
First: Emirates Private School, Al Ain - Emirates Readers
Second: Al Mawakeb School, Al Barsha - Team A
Third: School of Modern Skills - Girls Team A
The winners in the English Primary category were:
First: Gems Our Own English School - Chapter Champs
Second: Dubai English Speaking School - Code Book
Third: Gems Our Own English School - Rocking Readers
In the Secondary category, the winners were:
First: Private International English School, Abu Dhabi - Book Bulls
Second: Gems Our Own English School - The Aurelians
Third: Gems Modern Academy - Subluced