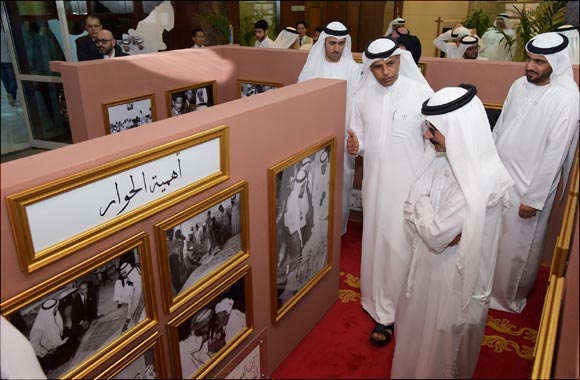 Dubai – 22 February 2018: Dubai Customs inaugurated today Thursday 22nd February 2018 a number of new innovation projects at its main building in parallel with the UAE Innovation Month 2018. These included the "Innovation Oasis" and the opening of its childcare center in a new design under the theme "Buds of the Future", plus the launch of digital applications around children stories.
Sultan bin Sulayem, DP World Group Chairman & CEO and Chairman of Ports, Customs and Free Zone Corporation launched a number of innovation projects in the Department in the presence of Ahmed Mahboob Musabih, Director of Dubai Customs, executive directors, a number of local and federal innovators and the media. He viewed the new innovations and invited all departments to benefit from them in detection and inspection operations. Bin Sulayem applauded Dubai Customs' effective digital connectivity between employees and their managers at different customs centers, and the effective use of smart applications to raise awareness on intellectual property rights.
Speaking to the new batch of customs inspectors, bin Sulayem highlighted the importance of their role in protecting the UAE borders from illegal materials including narcotics and explosives.
In his statement, PCFC Chairman encouraged inspectors to continually develop their potential and hone their skills whilst adopting the latest tools and technologies in their work.
"The wise vision of His Highness Sheikh Mohammed bin Rashid Al Maktoum, Vice President and Prime Minister and Ruler of Dubai has always been conducive to further success and prosperity in the emirate," said bin Sulayem. "Whatever we've done in Dubai, whatever we've invested in Dubai, whenever we took calculated risks, it's all about one thing: necessity is the mother of invention.
"In Dubai we had no means of surviving, we are not blessed with a lot of oil, we don't have minerals, and we have inhabitants who survive based on what's available. For us to move into a knowledge based economy and to realize ambitious and leading initiatives like the UAE Centennial 2071 and Dubai 10X we have to encourage and nurture innovation to become a daily practice, and this is what we have been working on with our employees during the last years now".
He added: "Engaging employees in the innovation journey is essential. They are the backbone of this innovation journey. It's also important for us to share our experience with our stakeholders. This is why we invite them to attend these events. The UAE Innovation Month is a golden opportunity for us to spread a culture of innovation to facilitate transition into a knowledge based economy as a prerequisite of leading initiatives such as the UAE Centennial Plan 2071 and Dubai 10X".
Ahmed Mahboob Musabih, Director of Dubai Customs pointed out that the setup of this innovation project is part of Dubai Customs strategic plans to inspire innovation and develop government work to help raise the UAE profile and help in maintaining the renowned position it occupies worldwide in fulfilment of the wise vision of His Highness Sheikh Mohammed bin Rashid Al Maktoum, Vice President and Prime Minister and Ruler of Dubai.
He said:"We are moving from applying individual scattered innovation initiatives into a solid coherent hub equipped with the latest technologies that helps in solidifying innovation as a strategic well planned priority. The innovative ideas of our employees will help in the national efforts in developing a knowledge based economy, maintaining the leading worldwide position the UAE occupies and realizing the objectives of 2021 and 2071 plans".
The Innovation Oasis will help employees exchange ideas and solutions in an exceptional interactive virtual reality work environment, he added.
On her part, Engineer Khawla Slaes, Director of Administration Affairs at Dubai Customs, the owner of the Innovation Oasis project said: "We aim to provide our people with an integrated system equipped with the latest tools and technologies to help them innovate and how to develop them into real projects".
The Innovation Oasis project is a platform that enables employees to communicate and exchange ideas within an interactive work environment. This enriches the employees' experiences and raises their awareness around the latest government innovative practices. The project has two concepts: The outdoor section where employees can enjoy the green spaces and fresh air, and an indoor section equipped with distinctive furniture items and devices to help them come up with new ideas and projects. The Oasis has a number of advanced technologies and different ways to educate employees on virtual reality in cooperation with HP company. This includes the 3D printer Ultimaker, 3D scanner PRO S3, the Z VR Backpack, Sprout PRO, and the innovative desktop PC, HP Elite Slice.
Spectre 13, the new generation of laptops, will be launched at the Innovation Oasis for the first time in the Middle East by HP.
To make it easier for employees to interact and exchange ideas a free wi-fi service was made available, a solar powered smart seat to charge smart phones in the outdoor sessions was setup, and an access system where you have to use your smile to be identified by a smart door, amongst others.
Seven digital applications on children stories will also be launched as part of the Year of Zayed, plus an intellectual property digital application that includes an awareness video on intellectual property rights. Applications are easy to install through apple play and google play. Users can listen to bilingual stories, and this includes people of determination who can enjoy the stories following the sign language.
The childcare center will be re-opened in a new look and design under the title "Future Buds". It has four sections to host children of all ages, starting from 2 months of age.
Dubai Customs will also launch a photo gallery that will be hosted by different customs centers in the airports, free zones and land entry points. The gallery will showcase the in-house innovations such as a 4 dimensional inspection device, an inspection buggy dedicated to help people of determination, an amphibian inspection buggy, a mobile inspection lab, a remote integrated container inspection system, a smart inspection system in the airports, a customs clearance buggy, and a robotic inspection system for ladies.
The News Wallet will also be launched during the event. It helps regulate and ease flow of PCFC news to the media. All PCFC entities update it with their latest projects and initiatives which helps in shedding more light on the role PCFC plays to sustain growth and support national economy.