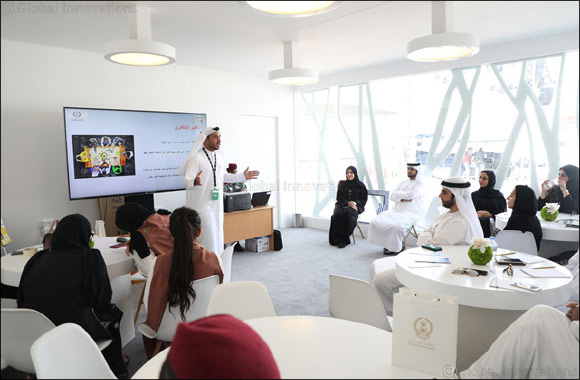 Sharjah, UAE, February 17, 2018: A workshop hosted by the Sharjah Police General Directorate titled 'Be Innovative' has emphasised the role of innovation in the day-to-day life and importance of creating a positive environment for the whole community.
"Innovation is the result of positive thinking. Innovation leads to lower costs, increased productivity and improved performance," said Ahmed Al Naqbi, a senior lecturer in the field of innovation, speaking on the occasion. The workshop was held as part of the UAE Innovation Month in Sharjah, being celebrated from February 15 to 21 at Al Majaz Waterfront and Sharjah Center for Astronomy and Space Sciences.
Al Naqbi said that the aim of innovation is to come up with a concept that is of public benefit and is useful for all in the form of a product, service or an idea.
The workshop addressed the importance of adopting happiness as an approach and way of life as happiness and positivity lead people to come up with innovative ideas and solutions to challenges and concerns that they may face in the day-to-day life.
'Establishing a culture of innovation in employees is one of the goals of Sharjah Police General Directorate, which stems from the Ministry of Interior's strategic objectives and the National Innovation Strategy, which aims to make the UAE one of the world's best innovators by 2030,' emphasised Al Naqbi.
'The Sharjah Police General Directorate offers several channels of communication with the public to receive their innovative ideas as well as feedback. The Ministry of the Interior has implemented an innovation platform that will educate the public on how to share their innovative ideas that will benefit all members of the community. Using the same platform, Sharjah Police receives confidential inputs from the public. It also uses it for issuing public questionnaires, meetings with various partners, workshops and for internal meetings and brainstorming,' he said.
The Sharjah Police General Directorate has launched a number of initiatives such as the Innovation Lab to encourage its force and staff to come up with innovative solutions and ideas, besides announcing an annual award for innovation.
A number of such workshops and presentations are being hosted by various Sharjah government entities and departments, showcasing their scientific experiments and innovative solutions to residents' needs and concerns.
Following the tremendous success of the UAE Innovation Week over the past two years, His Highness Sheikh Mohammed bin Rashid Al Maktoum, Vice President and Prime Minister of the UAE and Ruler of Dubai, has called for celebrating February as the UAE Innovation Month, in line with the enterprising spirit of the UAE's visionary leadership.
The UAE Innovation Month supports the national innovation strategy and contributes to the UAE's position as a global innovation hub. The month-long celebration encourages and inspires the public and private sectors as well as individuals to adopt innovative thinking and practices for the greater common good of the people.