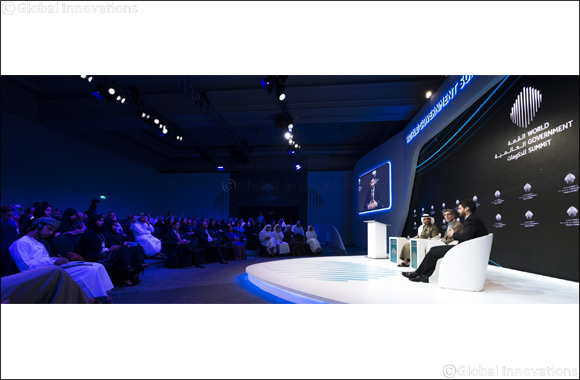 Dubai-UAE: 14 February, 2018 – Teaching altruism, empathy and self-control as well as supporting cognitive habits will help reinvigorate our education programs and underpin students' success as adults, concluded experts at a breakout session on day two of the sixth World Government Summit (WGS 2018) in Dubai.
Headlining the session entitled 'How Can We Reinvent Education?', pioneering neuroscientist Dr Richard Davidson and Max Ventilla, founder and CEO of AltSchool, agreed that to prepare kids for the future, educators need to move away from the 'industrial model'.
Dr Davidson said: "Although the model was widely successful for the better part of the 20thcentury, nowadays to prepare children for the future, educators need to understand how children's experiences outside and inside the school affect the way they learn. A long-standing theory – widely accepted for decades – is that there are separate centers in the brain for logic and emotion. But simply put, that, in fact, is a myth. There is no area exclusively responsible for one or the other, the brain actually commingles both."
Moreover, Dr Davidson noted that a stressful event like an argument will actively start circuits in the brain that hinder learning capabilities.
He highlighted the need to prepare children for a time of constant change using emotional resilience as an adaptation tool and emphasized the importance of incorporating these strategies across classrooms globally. Stressing that intelligence goes beyond standardized tests, he offered useful tips on leading more meaningful and successful lives.
Citing the results of scientific studies, Dr Davidson explained that measuring self-control as early as in four- to five-year-olds can be an accurate predictor of physical health, substance abuse, criminal convictions and income.
For his part, Max Ventilla stressed that the rise of technology-led education (EdTech) has opened a world of distinct possibilities for the personalization of education.
He also explained that teachers should work towards activating students' motivational skills. In addition, he outlined the major trends that are shaping the future of education and examined the role technology should play in the future education landscape.
Under the patronage of His Highness Sheikh Mohammed bin Rashid Al Maktoum, Vice President and Prime Minister of the UAE and Ruler of Dubai, the World Government Summit 2018 runs from February 11 to 13 at the Madinat Jumeirah in Dubai. The landmark event convenes more than 4,000 participants from 140 countries, including heads of state and governments, as well as top-tier representatives of 16 international organizations.
Hosting more than 130 speakers across 120 interactive sessions, WGS 2018 features five distinct forums that examine the challenges of vital sectors for the future with a view to finding the best resolutions for the greater global good. Furthermore, over 20 specialized global reports spanning key sectors and topics of the summit are being launched during the event.