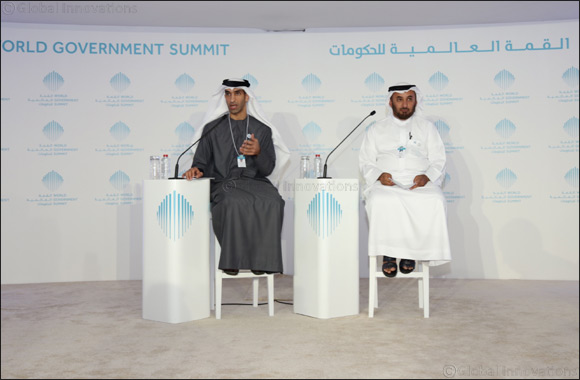 Dubai, UAE, February 13, 2018 – The UAE Ministry of Climate Change and Environment (MOCCAE), jointly with the Dubai Land Department (DLD), held a press conference today at the World Government Summit (WGS), to announce a report entitled, "State of Play of Sustainable Cities and Buildings in the Arab Regions".
The first-of-its-kind report is a compilation of the main public policies, programs, case studies, organizations, and initiatives associated with sustainable city and building practices in 11 countries across the Arab Region: Algeria, Bahrain, Egypt, Jordan, Lebanon, Morocco, Oman, Palestine, Saudi Arabia, Tunisia, and the United Arab Emirates.
Speaking at the conference, His Excellency Dr. Thani bin Ahmed Al Zeyoudi, UAE Minister of Climate Change and Environment, said: "Today's report provides findings from the review of 11 countries in the region, by mapping key institutions and initiatives, and by identifying case studies. It also reaffirms the UAE's commitment to the highest of standards for sustainable green buildings. The UAE is a pioneer of sustainability technologies, and through this report, we are disseminating best practices that will benefit cities around the world."
Commenting on the importance of the report, His Excellency Sultan Butti bin Mejren, Director General of the Dubai Land Department, said: "With our work in the real estate sector, the Dubai Land Department is focused on sustainability. In collaboration with the Ministry of Climate Change and Environment, we learned more about projects being implemented in other Arab cities, which led to the development of today's report. We hope this report is just the beginning, as we continue partnering with the MOCCAE and other organizations to publish more reports on green infrastructure in the future."
The report was prepared in cooperation with national Green Building Councils over the course of 14 months, and developed following an MoU between the UN Environment Programme, MOCCAE and DLD.
Held annually in Dubai, WGS provides a global platform where leading voices from the private, public and non-profit sectors meet to discuss and showcase innovations, best practice and smart solutions to shape the future of governments – inspiring creativity to overcome challenges facing people and communities around the world.