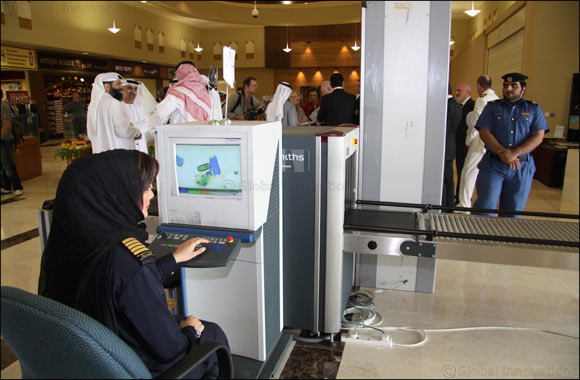 Dubai – 27 Dec 2017: As the New Year draws closer, everything is set and ready by Dubai Customs to handle large influx of travelers in Dubai's airports over the festive season. The Passenger Operations Department of Dubai Customs has taken all measures and arrangements necessary to facilitate the movement of passengers and tourists arriving to or transiting through Dubai during this peak traffic season.
In DXB terminals 1, 2 and 3 as in Al Maktoum Airport, Dubai Customs' passenger operations teams are all geared up to make the flow of passengers and visitors coming to Dubai for New Year's celebrations and Dubai Shopping Festival not only smooth sailing but also a happy and enjoyable experience.
While ensuring faster customs clearance for passengers and their luggage during the busy winter tourist season which further promotes Dubai's thriving tourism and travel industry, Dubai Customs staff are also vigilant with stringent control to make sure the integrity, security and protection of the community and the economy are not compromised.
Khalid Ahmad, acting director of Passenger Operations said: "As is the case in each peak traffic season, we have put on additional staff to the Customs gates in Dubai's major airport terminals to provide timely, round-the-clock clearance services for passengers and their baggage. This will give visitors and tourists a good first impression of Dubai as a world-class travel and tourist destination.
"The busiest New Year holidays season which coincides with DSF, the region's largest shopping and entertainment event, is being managed well thanks to a lot of meticulous planning and preparations and close coordination with our partners at Dubai Airports and all stakeholders with whom we work as one team to offer a great friendly and hospitable experience to Dubai's visitors."