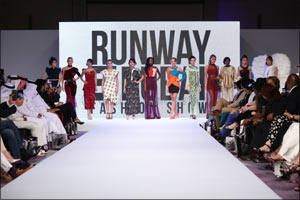 In partnership with Faiza, the leading beauty cosmetic company in Asia, Runway Dubai Season V brought an explosion of talent; new, established and musical. Over the course of the 3-day exclusive fashion event, Runway Dubai Season V brought upcoming musicians Blake Rose, from Australia, Siya Arora from India, and Julie Joseph from the U.K. They all blessed the audience with their sultry tones, moody music and youthful spirits in the form of performances and innovative ideas. A fascinating highlight was when Rose, usually referred to as the Australian Justin Beiber, recorded a song live on stage, looping drum beats and guitar chords right before the audience. The raw, passionate vocals of Julie and Blake, touched hearts…as they sang an emotional rendition of Rihanna's "Stay". The younger generation enjoyed the energy and passion of Siya's original collection of self-composed music.
Never failing to impress, the catwalk was alight with full blown talent and everyone who attended, applauded in agreement throughout the evening. The only fashion show in the region showcasing emerging talent, and at the same time, promoting fashion tourism encouraging a range of designers to travel, and show their eclectic collection in a fast forward city like Dubai. This year was no different, as it featured talented designers from Lebanon, Hungary, Nigeria, Morocco and South Africa just to name a few. The anticipated fashion talent competition was well attended with supporters of the designers who had traveled far and wide to pursue their dream on the one platform that truly encourages talent. A rainbow of colors, textures and beauty, paraded the stage with its usual professionalism and sparkle. From Walid Atallah to Szandra Akkach, the featured designers blew away the guests with a whole line of fresh and innovative ideas.
Walid Atallah
A glamourous designer with an ethereal flare, Walid's collection was creative, royal and dramatic. Pieces with presence and elegance, forced spectators to a standing ovation with rich fabric, intricate embellishments and mind-blowing originality. Theatrical costumes fit for anyone seeking inspiration and motivation into the fashion world.
Lia Ogan
Nigerian designer Lia Ogan delivered a wonderful collection inspired by birds, feathers and ruffles to create an array of ready-to-wear attire. Speaking to the average woman, Lia displayed her bubbly personality through her pleasantly colorful garments.
Mounia el Hsaini
A Moroccan designer from Paris, Mounia is inspired by nature, especially animals and flowers. Her collection comprises of simple pieces reflecting her personal tastes as well as others. Using high-end fabric including Calais lace, crepe Georgette and tulle, Mouny Creation is beautifully adorned with Moroccan stones and crystals. Graceful and refined, El Hsaini used traditional and embroidered textiles to compose her outfits. She also had the opportunity to dress some of the celebrities at the show.
Szandra Akkach
A modern, middle-eastern designer employing a clever blend of modern abayas, haute couture, evening gowns and bridal dresses, her collection was fascinating to watch. Using silk, chiffon, traditional heavily beaded elements and interesting fabrics, Szandra presented a diverse range appealing to buyers of different cultural influences and easy-to-wear options. Inspired by the desert, where she grew up, and the Swiss Alps, where she studied, Akkach's designs reflected the sunrise, sunset, and the pleasure of nature's oceanic waves.
Carlos Fritz
Carlos Fritz Creations delivered a unique collection specially for this unique event to honor Runway Dubai. An exotic creation influenced by the diverse cultures of South African wildlife and indigenous flowers. His gorgeous dresses floated down the runway, wonderfully crafted, and embracing intricate beading, and diagonal draping.
Samah Shublaq
The Palestinian designer who previously received a trophy as a top designer during the 2014 Runway Dubai show, supported the fashion tourism campaign with modest and classy pieces inspired by her beautiful country with the aim of what she will be working on for 2018.
ASANDA MALI
Asanda Mali brought a message of diversity to Dubai's fashion scene. Originally from South Africa, Asanda's vibrant, plus-size collection was of hope, and confidence. Trust this new bold and fierce statement to receive positive affirmation from guests. She was emotional, to receive the positive responses from guests who applauded loudly during her finale.
The winner of the fashion talent contest Yasmine Mamlouk from Syria who drew her inspiration from the city of Aleppo, took home the title Fashion designer of the year.
The entire production was smooth and visually pleasing. The models, both male and female were stunning, elegant and exotic which was made possible by a huge team of makeup artists from the Makeup Art Academy Paris, and Bebar blow dry bar and hair styling.
Founder of Runway Dubai Modupe Omonze takes the time to shine the spotlight on emerging talents by giving them the unique opportunity to display their ideas in a professional setting, while developing their confidence in a high-profile location. Kudos to a fellow fashion designer that passionately contributes to the future of the fashion industry.
Written by Marcus Joseph.