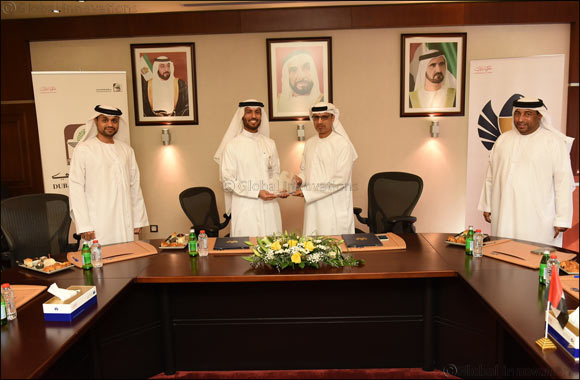 Dubai – 27 November 2017: In fulfilment of Smart Dubai initiative launched by His Highness Sheikh Mohammed bin Rashid Al Maktoum, Vice President and Prime Minister and Ruler of Dubai and to enhance ties amongst government departments of Dubai, Dubai Customs signed a cooperation agreement with Dubai Municipality which will see it provide the Municipality with methodology and mechanisms adopted at Dubai Customs' IT Department. This serves the trend of turning Dubai into the happiest and smartest city in the world. The offering includes processes, models, designs, and practices.
The agreement was signed by Juma Al Ghaith, Executive Director of Customs Development Division at Dubai Customs and Ahmed Obeid Al Falasi, Assistant Director-General for Corporate Support Sector at Dubai Municipality.
Juma Al Ghaith received Dubai Municipality's delegation and reaffirmed the significance of mutual cooperation and exchange of knowledge and experience between Dubai government departments, saying that Dubai Customs follows the latest international standards in developing its projects following the vision of Vice President, Prime Minister and Ruler of Dubai, His Highness Sheikh Mohammed bin Rashid Al Maktoum, which aims to make people's lives easier and enabling their happiness.
On his part, Ahmed Al Falasi applauded this cooperation between the two leading government departments which will lead to exchange of best practices, knowledge and experience.
He said: "We want to benefit from Dubai Customs' experience in IT field and how they handle and design their projects. Dubai Customs, according to this agreement will provide the training plus the technical support to facilitate the application of processes".