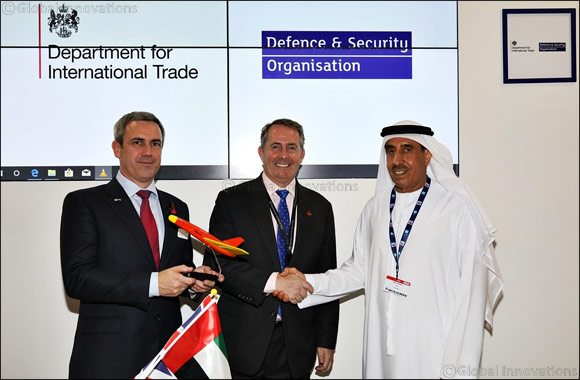 Host of groundbreaking deals unveiled on opening day
Dubai, UAE. November 14, 2017: UK Secretary of State for International Trade, Dr Liam Fox, today witnessed the signing of a groundbreaking new joint venture between the UK and the UAE, as the Dubai Airshow 2017 opened its doors and immediately facilitated a host of major business deals.
The agreement, between target manufacturer QinetiQ and Middle East General Enterprises will see the UK-based firm invest in the development of both infrastructure and training capability designed to enable a new Emirati workforce to provide the skilled manufacture of maritime, land and air targets, both for use by the UAE armed forces and for export around the wider region.
Managing director international at QinetiQ, Ian Farley, said: "For us, this is a real statement of intent to invest in the UAE to transfer knowledge so that we can hire new recruits and develop local Emiratis to be able to do skilled jobs related to the assembly, test and supply of a target service to the armed forces here in the UAE. It's the way that we want to build business going forward, where we make investments in local markets in partnership with local companies that we feel provide us with enduring capability."
"This is going to be an Emirati business, it's primarily for this market and the technicians and engineers that are going to be building this product are local. However, this is not just a business for the UAE, nor is it just a regional export opportunity. This is an integral part of our target business globally."
The joint venture was the latest in a series of far-reaching deals agreed on day one of the event at DWC, with more than US$17 billion in sales agreed in just the first four hours of opening.
His Highness Sheikh Mohammed bin Rashid Al Maktoum, Vice-President and Prime Minister of the UAE and Ruler of Dubai, was joined by his son, Sheikh Hamdan bin Mohammed bin Rashid Al Maktoum, Crown Prince of Dubai, and officials from Emirates airline and Boeing to witness the signing of a US$15.1 billion commitment to purchase 40 Boeing 787-10 Dreamliners.
Commenting on Dubai Airshow 2017's opening day, Michele van Akelijen, Managing Director of organisers Tarsus F&E LLC Middle East, said: "The Dubai Airshow has always had truly international appeal, attracting exhibitors from 60 countries this year. To see international agreements, especially those that bring investment to the UAE, being signed here on day one proves the value of the show."
More than 72,500 trade visitors are expected across the event's five-day run, representing the entire spectrum of the aerospace industry.
The Dubai Airshow takes place 12-16 November at DWC, Dubai Airshow Site and is open to trade visitors from within the aerospace industry. Visitor tickets can be purchased from www.dubaiairshow.aero and are valid for the full five days.