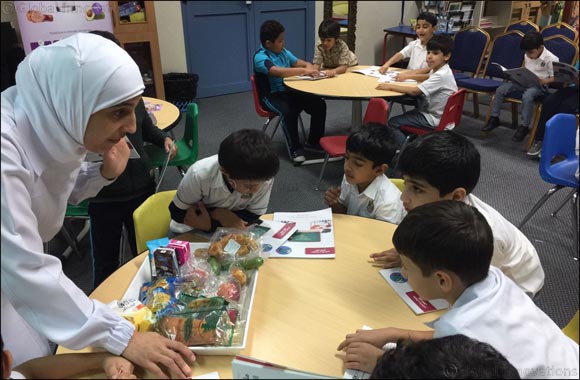 Over 1 year, the KiDS program has enabled close to 160 education sessions reaching over 4600 children, including 54 students with diabetes in schools across UAE, along with training for 22 nurses
KiDS aims to foster a supportive school environment for students with type 1 diabetes and increase awareness on healthy lifestyles to prevent Type 2 diabetes
An estimated 60,000 children, under 15 years of age, have Type 1 diabetes in the MENA Region1
Type 2 diabetes is also on the rise in children and adolescents, at a rate of 3% annually
Dubai, United Arab Emirates, 7 November 2017: The Ministry of Health & Prevention in partnership with the Ministry of Education, and supported by Sanofi, completed the pilot phase of the 'Kids and Diabetes in Schools' (KiDS) in UAE. The program successfully educated more than 4600 students, 500 teachers, over 800 parents, and trained 22 nurses between November 2016 and June 2017. It is helping raise awareness on diabetes among school students and is also encouraging the adoption of good habits at an early age. This program is based on a global KiDS toolkit co-created in partnership with the International Diabetes Federation (IDF) and the International Society for Paediatric and Adolescent Diabetes (ISPAD).
Dr. Najla Hussain Sajwani, Head of School Health Section at the Ministry of Health and Prevention, stated that, "Through this program, the Ministry is working towards providing information, resources and support to help Children, Families and teachers in the UAE to tackle diabetes. Our aim is to keep up all efforts for executing diabetes awareness programs in partnership with health and education authorities throughout the school year. Ensuring that students with diabetes have access to proper health services is very essential for them to stay healthy, and ready to learn. Managing diabetes at school is most effective when there is cooperation among students, parents, school nurses, healthcare providers, and teachers, among others. Our combined energies in conjunction with partners like Ministry of Education and Sanofi, has the potential to help achieve the highest standards of health in the UAE."
During the first semester of the pilot phase that commenced in November last year, the program was run in 12 schools across the UAE, and an additional ten schools joined for the second semester from across Dubai and Northern Emirates. In total, over 4600 school students across various age groups participated in the program, along with their teachers and parents. Next year, the impact of the awareness efforts will be assessed and analyzed through pre-activity and post activity feedback surveys with students and parents. These will target all participants to evaluate their understanding of the subject and address knowledge gaps, while helping them recall vital health information.
"The sessions were very informative and helped students learn about aspects like choosing healthy foods options in the cafeteria, for example, reaching for wheat bread rather than white bread or opting for more organically-grown foods in place of fast food. We also discussed the importance of regular blood sugar monitoring, proper counsel and safely undertaking physical activity. Parents are constantly worried about the well-being of their children at school, and such trainings reinforce confidence in our ability to effectively manage any health situations," expressed Sally Zaki, a school nurse at Al Hassan Al Basri School
Students had the opportunity to learn about diabetes through interactive training materials, such as comics, activity sheets, competitions, and educational videos, along with a fun mascot named Tantoon.
"Post the success achieved in the pilot phase of the 'KiDS Program', we are delighted to continue our collaboration with the Ministry of Health and Prevention, and the Ministry of Education towards addressing a critical health concern in the UAE. While children are at the core of the initiative, the program is targeting multiple stakeholders to build a supportive school environment for effectively managing diabetes among students. As responsible partners in the industry, we are dedicated to nurturing every effort that will harbor long term positive health outcomes for diabetes management among communities," said Jean-Paul Scheuer, Country Chair and General Manager for Sanofi Gulf.
In the coming months, the second phase of the 'KiDS Program' will be rolled-out across more schools in UAE, and the efforts will continue till mid-2018. The collaborative campaign aims to reach maximum children and their caregivers to create a long-lasting positive impact, in the fight against diabetes.