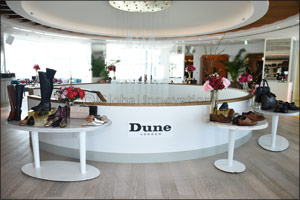 Lose yourself as a new love story unfolds with a foot-tapping tale of romance for Autumn/Winter 2017.
Inspired by the musicals of the West End our two could-be lovers meet against the backdrop of London's warm autumnal sunlight, letting their feet do the talking. As they lead one another in spontaneous dance through cobbled city streets, stand-out styles from Dune London's latest collection set the tone. Dapper high-shine brogues for him expresses a men's collection full of iconic silhouettes refined and updated for the new season. Pillar box red ankle boots for her offer a glimpse of the trend-led ladies collection, where luxury embroidery and metallic motifs contrast with flatforms and wear-forever sports casuals and kitten heels.
They're united again at a grand confetti-strewn party where their mirrored choreography gives way to a Fred and Ginger-style sequence that captures the thrill of the unsaid and spirit of the party season. Her heart-embellished heels tap into the giddy excitement of a budding romance, while his brocade slippers encapsulate unique ability of Dune London to combine classic design with contemporary flair.
This season, watch as the knowing glances, the racing heart and the butterflies that come with the first flushes of new romance are told through the medium of dance.
FIND YOUR DANCING FEET