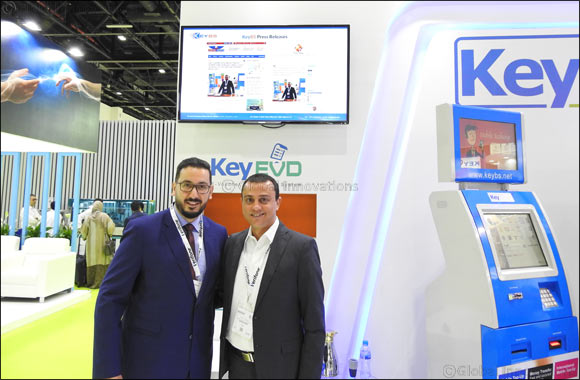 The revolutionary product, developed by KeyBS, makes e-Voucher distribution easy and hassle-free for 4Run telecom distributors.
DUBAI - June 19, 2017: KeyBS, a dynamic solution provider and systems integrator company, and a fully owned subsidiary of Arabi Holding Group, has announced the launch and installation of the cutting-edge e-Voucher distribution system named KeyEVD on POS machines of 4Run Telecom, a leading telecom distributor and subsidiary of Qanawat Telecom in the Kingdom of Saudi Arabia.
The partnership will further boost instant print and purchase of prepaid e-Vouchers through the unique KeyEVD solution, developed by KeyBS.

KeyEVD is a solution designed especially for telecom operators and distributors to help expand their e-Voucher distribution network, control and monitor their sales activities. The solution will create an easier route to sell the prepaid e-Vouchers through the POS machines at the branches and shops of telecom operators and distributors.
The dealers can sell the e-Voucher PINs electronically from the POS machine in both offline and online modes and can get detailed reports including that of sales, inventory and stock.
The innovative solution will replace the old manual way of selling the physical scratch-cards and distribute them in the market, thus reducing the cost of transporting and storage.
KeyEVD is already live with many 4Run Telecom merchants and mobile shops. The solution is extensively facilitating the pre-paid vouchers of all telecom operators in Saud Arabia, namely STC, Zain and Mobily. This is in addition to enabling and providing other services including international mobile top-up and gift vouchers for iTunes, Google Play, Netflix and Amazon.
Commenting on the partnership, Mr. Ibrahim Darraz, Managing Director of KeyBS, said, "It gives us great pleasure to provide our innovative product KeyEVD to 4Run telecom. Saudi Arabia is a very big and important market in the region and through our partnership with 4Run, we are taking our solution to another level by facilitating the e-Voucher service for all telecom operators in the Kingdom."
"At KeyBS, our vision is to develop innovative solutions and products that can transform the business of different sectors such as banks, financial institutions and telecom operators as well as government departments. We facilitate their services on advanced technological platform. We have provided KeyEVD and KeyKIOSK (our self-service KIOSK product) to many government institutions, banks and telecom operators in the GCC, Africa and the US," he added.
Commenting on the alliance with KeyBS, Mr. Mohamed Abdul Jawad, Chief Financial Officer at 4Run, said, "We are happy with our partnership with KeyBS. We are happy to be working with an international company as KeyBS and trust their solutions and products. KeyEVD is a great innovation and it is a smart and advanced way of selling the e-Vouchers of the pre-paid mobile lines through very simple way and a few steps on the POS machine."
"Through KeyEVD, we can provide the best service to our customers and sub-dealers, we are the first distributor in the Kingdom announcing and providing all operators e-Vouchers on one wallet and one POS device, the thing which make the sales process and stock management easy and flexible. 4Run Telecom is looking forward for more expansion and bigger share in Saudi market through KeyEVD technology," he added.
The innovative product is helping telecom operators and distributors to provide the pre-paid pin codes in a very safe way by avoiding the costs of shipping, distributing and inventory. The solution is providing an access to detailed reports of sales, stock and inventory to telecom operators.
Besides KeyEVD, KeyBS provides other services such as – KeyPOS, KeyKIOSK, KeyTMS Suite, KeyCMS Suite and KeyMobile.