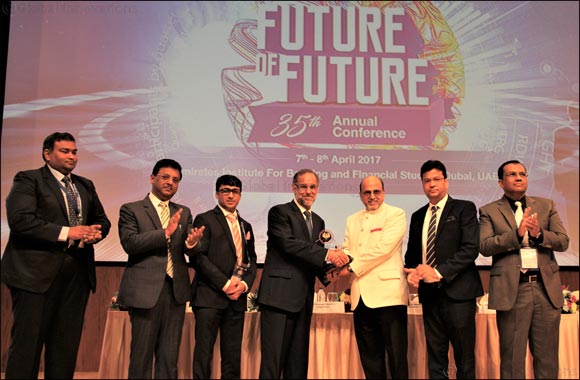 Dubai, April 11, 2017: The ICAI – Dubai Annual Conference was held on 7th and 8th April 2017 at the Emirates Institute of Banking and Financial Studies, Academic City, Dubai. The Theme of the Conference was: 'FUTURE OF FUTURE" H.H. Sheikh Nahyan Bin Mubarak Al Nahyan, Honourable Cabinet Member & Minister of Culture & Knowledge Development, Government of UAE inaugurated the event. The ICAI – Dubai felicitated Dr. R Seetharaman, CEO of Doha Bank on his being awarded Pravasi Bharatiya Samman (PBS) 2017. The dignitaries at the function were HE Navdeep Singh Suri, Indian Ambassador for UAE, CA Naveen Gupta, Vice President, ICAI, India, CA Pankaj Mundra, The Chairman, ICAI - UAE (Dubai) Chapter and the Board members of ICAI UAE Dubai Chapter.
Thanking the ICAI Dubai Chapter for the felicitation Dr. R. Seetharaman, said, "India today is poised for a giant leap from the ranks of developing countries to developed countries. The Indian diaspora, currently numbering about 30 million, is one of the largest diasporas in the world and has in it a number of persons of distinction and achievement. Among others, the fields considered for determining service of distinction and merit are creating better understanding outside of India; enhancing India's image in the country of residence; eminence in one's field; and building closer links between India and oversees community. Indian citizens living outside India also have a responsibility on this progress and hence should look forward to contribute to the welfare of India. This can be done through remittances, investments, trade and other routes as well. More than 8 million Indians are in the GCC. I believe that the Indian diaspora in the GCC can play an important role in the areas and thereby promote bilateral relationships between GCC and India. This award further inspires me to contribute to the strengthening of bilateral relationships between GCC and India."
At the event, Dr. Seetharaman further provided insights on emerging trends impacting technology. He said, "With Global growth still struggling to accelerate, innovations in technology can act as an enabler of growth. Technology is the platform for innovation, sustainability and for gross welfare to the mass. The forces of digitization and the rapid adoption of advanced internet technologies are increasingly resulting in the international establishment of a flexible and proven corporate architecture that is increasingly being referred to as a "digital ecosystem. Digital eco system is significantly more than digital banking, it takes a holistic view of the customer. The connectivity between various service providers is lot more in an "digital eco system" than in a digital banking environment. There has been little investment in the GCC Fintech industry, but this is expected to change in the coming years. GCC governments can play the role of facilitators in terms of policy and regulation, and in providing the right environment for innovation to flourish to enable private sector to come up with solutions."
PBS is an award instituted by the Ministry of Overseas Indian Affairs, Government of India and is conferred on Indians serving abroad for their meritorious and exceptional contribution in any field of community and public service. This year the 14th award ceremony was held from 7th to 9th January on the Pravasi Bharatiya Divas (Non-Resident Indian Day), in Bengaluru, India. The award was given away by the President of India with Dr. Antonio Costa, Prime Minister of the Republic of Portugal as the chief guest.
Dr. R Seetharaman, the Group Chief executive officer of Doha Bank and an economic expert, has achieved remarkable success in banking, trade, economics, investment, environment, social responsibility and charity. He is recipient of multiple doctorates from leading universities of the world, including Ph D degrees in 'Green Banking and Sustainability' and in 'Global Governance.' He is a Chartered Accountant and holds a certificate in IT systems and Corporate Management, and also a Gold medalist in Bachelor of Commerce.