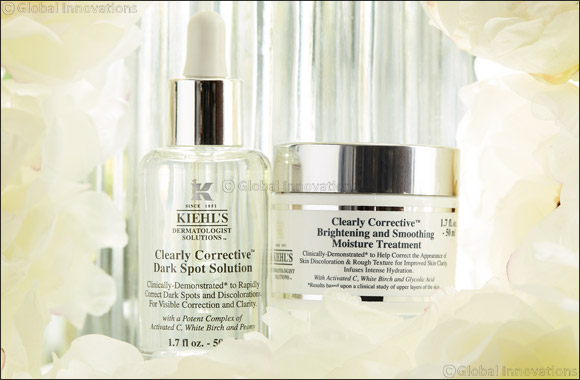 With a precise balance of activated C and Glycolic Acid Kiehl's offers an advancement in skin clarity
New moisture treatment is suitable for use twice daily, even for sensitive skin
Dubai, UAE, March 17, 2017: Kiehl's is proud to introduce the Clearly CorrectiveTM Brightening and Smoothing Moisture Treatment – an ultra - lightweight, innovative hydrator featuring dermatologist - trusted Glycolic Acid in concert with the company's signature skin clarity ingredient, Activated C (a high - performance Vitamin C derivative).
In 2011, utilizing Activated C, Kiehl's chemists first established leadership in skin clarity with the launch of Clearly Corrective Dark Spot Solution (CCDS). To date, this formula is one of the most trusted serums for skin clarity, winning 19 global beauty awards and selling over 4 million bottles worldwide.
14 months ago, Kiehl's chemists began formulating a new type of hydrator - an innovative moisture - treatment - to target 3 key causes of loss of clarity: rough texture, dehydration, and discoloration.
"CCDS remains one of the most effective targeted treatments for clarity on the market, but treatment serums are only one component of a complete skincare
regimen," shares Helen Sung, AVP Kiehl's Product Innovation. "We asked ourselves, how could we address the key causes of loss of clarity? Naturally we could introduce additional doses of our skin clarity ingredients into a moisturizer, a central step in a regimen. But the true innovation would be in helping skin to better reflect light, and to be more receptive to the formula's ingredients. This is where glycolic acid offered an important enhancement to the equation."
While highly effective, Glycolic Acid can be irritating and dehydrating to skin. "Widely used as an agent in peels, it is a less popular ingredient in hydrators," explains Dr. Adam Geyer, Kiehl's Consulting Dermatologist. "When used in moisturizers, many formulate with glycolic acid at such a high level that it requires very specific usage and rarely allows for the moisturizer to be easily incorporated into a standard skincare regimen. And these formulas are generally unsuitable for those with sensitive skin."
Always focused on the needs of even its most sensitive skincare customers, Kiehl's chemists utilized precise concentrations of the ingredient to retain its exfoliation benefits, while remaining tolerable and appropriate for sensitive skin types.
"We intentionally used a lower level of Glycolic Acid in our formula to help soften surface skin rather than to aggressively peel it. This complements the Activated C in the formula by helping skin to be more receptive to the skin clarifying ingredients," stated Dr. Geoff Genesky, Kiehl's Head Chemist. "Within the formula, we also offer moisturizing benefits by tapping into the nourishing and protecting roperties of Peony and White Birch. This careful balance is our true formulation achievement. This moisture treatment not only offers 24 hour hydration to balance the keratolytic properties of glycolic acid, but our formula is so tolerable that it can be used twice a day or even applied with a thicker layer as an overnight masque."
Actively brightening, smoothing, and refining skin for a smoother texture, Clearly CorrectiveTM Brightening and Smoothing Moisture Treatment is clinically demonstrated to target the key factors of loss of clarity. After just 1 week, 86% of women agreed their skin had a luminous and translucent glow and felt soothed, while 94% agreed their skin felt moisturized.
Brighter Together With the Kiehl's Clearly Corrective Dark Spots Solution
In 2011, Kiehl's chemists first established leadership in skin clarity with the launch of Clearly Corrective Dark Spot Solution. To date, this formula is one of the most trusted serums for skin clarity, with over 4m sold, and winning 19 global beauty awards. The Clearly Corrective Dark Spot Solution is powered by:
Activated C, a completely stable, fast acting Vitamin C molecule to fight discoloration .
White Birch to restore hydration & smooth skin's surface.
Peony Extract to protect against free radical damage
Price:
Clearly CorrectiveTM Brightening and Smoothing Moisture Treatment, 50mL – 280 AED
Clearly CorrectiveTM Dark Spot Solution, 30mL – 235 AED
Clearly CorrectiveTM Dark Spot Solution, 50mL – 315 AED