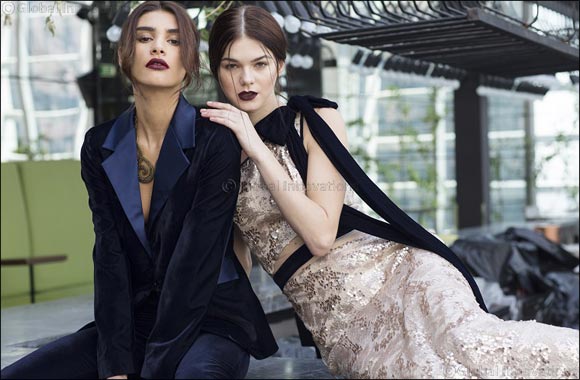 Kanchan Kulkarni - Fashion Designer, Philanthropist and owner of the International label, Kara by KK
Dubai, UAE, March 14, 2017: Fashion forward and style savvy, Kanchan Kulkarni is the creator of the international brand label, Kara by KK which is inspired by women who are their own person and express their inner statement style through a combination of fearless fashion and strong worldly actions.
With her first stint designing a capsule collection of left-of-center shirts for an established brand in 2013, Kanchan grew from a long-standing career in Real Estate to the fashion industry in a short span of time, featuring in high-profile shows in the GCC and India. After bagging the Society Icons 2016 Award for her contribution to fashion alongside industry giants such as R. Madhavan and Rakesh Roshan, as well as the Savvy Women's Honor Award in July 2016, Kanchan Kulkarni has a repertoire of four collections in less than a year, with a fifth one on its way.
Apart from fashion, Kanchan Kulkarni has a flair for fine arts, with an acting course on film from the New York Film Academy, and even has a self-financed charity organization, Kara Foundation, that uses Kara by KK's profits for the uplifting of children in India.
Quotes from Kanchan
To me fashion is poetry with fabric.
Dubai is a beautiful amalgamation of different cultures and that's the reason why it has become the region's fashion hub. Here, it's not just the availability of various brands, but the different nationalities who wear the brands and make it their own, that matters.
I was born in Mumbai but have lived my entire life in Dubai and I consider myself Indian-Emarati.
Fashion is for everyone and being comfortable and confident in the dress you are wearing is always our only focus.
Style is constantly evolving and it is so difficult to name just one inspiration. Having said that, at the moment I love Victoria Beckham's style. I admire the way she has changed her image from her Spice Girl days.
Don't let people invade your creative space. It's where your dreams live!
Kara by KK
International Fashion Label for Women
Kara by KK is a Dubai-based international brand with an artistic blend of shapes and design from several cultures to pay homage to the global spirt of fashion which goes beyond boundaries. With her childhood set in the Middle East, Dubai-bred Kanchan's design aesthetic is inspired by the multi-cultural environment in which she lives along with the grace of abayas adorned on beautiful Emirati women in the UAE.
Kara by KK began in a studio in Dubai as a thought when creating a quirky collection of shirts inspired by the individual tastes of some of Kanchan's near and dear ones. From then on, Kanchan has pursued a jumpstart approach into the industry with short courses through the London College of Fashion to aid her technical know-how of the intricacies of the art form. Kara by KK offers a line of mainly classic, but sometimes quirky dresses, focusing on the use of luxurious materials sourced locally, to create elegant styles that timelessly capture the essence of the wearer.
Founded in Dubai in July 2014, Kara has grown and recently featured on the runways of the Mercedes-Benz show in Doha, as well as in the prestigious Pune Fashion Week and India Beach Fashion Week, Goa.
Kara is a woman with spunk who will dare to try a new style but never let fads and trends define her. Kara by KK offers consultancy services for bridal couture, party and formalwear, as well as a range of comfortably casual dresses ideal for the modern, elegant and strong woman.
Located in Dubai on 2nd December street in Dune Building and for online orders on wwww.lovefromkara.com, as well as locally at the Vesimi Store on Jumeirah Beach Road and internationally at the Mythology Boutique in Singapore and Mogra Boutique in Mumbai, Kara by KK is looking at being more widely stocked across the Middle East.
Kanchan Kulkarni's label, Kara by KK, has dressed the likes of Miss India Sarah Jane Dias, GQs best-dressed winner and actress Waluscha D'souza, celebrity trainer Yasmin Karachiwala, Miss Heritage India 2015 winner Pooja Bimrah, and Miss Asia runner-up Neha Ahuja.