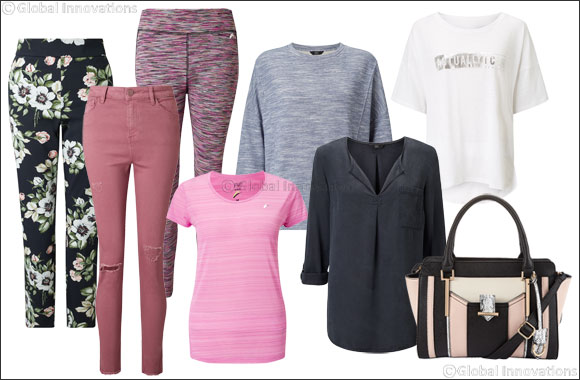 Dubai, UAE, March 14, 2017: Cuba provides the backdrop for SS17 this year in a composition of vintage designs and detailed fabrics. There is a plethora of creations which embrace the combination of relaxation and spirit of freedom. The stories, Havana and Vintage Cuba, portray the idealistic lifestyle associated with holidays and beach life through an array of ditsy prints, denim, tactile fabrics and washed out, bright colouring.
WOMENSWEAR
Authenticity is explored in the modern world as the central inspiration for all collections; evocative styling in Vintage Cuba and the colourful lifestyle of the worldly traveller in Havana. The emergence of pared back products and multiple textures create a stylish look and a relaxed feel for every wearer.
A serene and exciting palette of white washed neutrals, mellow reds, summer sky blues and sun-bleached peach runs throughout the collections. The perfect accompaniment to the wide range of denim, which is prominent this year; the options ricochet from dark-washed crop jeans, to coloured denim that it is a staple for every wardrobe.
The bohemian traveller is brought to life through embroidery and ditsy prints that play a large role this season, accentuating the Cuban style as well as appearing in casual collections.
LINGERIE
Congenial style does not just stop at dresses and denim; F&F has created an abundance of lingerie in keeping with the bright, vintage ambiance of the women's main range. The central print for the range is a watercolour tropic pink, embedded in clean cup styles. There are also Apex bras in keeping with the athleisure trend, which is prominent this year.
MENSWEAR
Athleisure is presented throughout the collection; a classic palette of grey, black and cobalt blue ensures there is something for every satorial gentlemen. Bomber jackets, baseball polos and high neck hoodies satisfy the seasons key trends yet provde a subtle, unique twist on classic athleisure options.
Denim is taking precedence in the men's catwalks, so Indigos are also playing a huge role in range as they vary through a variety of denim pices. Coinciding with this, there is a range of chambray shirts, in keeping with key trends whilst proving an easy, comfrotable option.
For formal options there is a clean colleciton based on fresh pastel tones of aqua and pink, with a focus on white and navy. Classic checks and clean, sharp prints accompany chinos, plaited belts and new weave textures, hinting at a serene, beach to bar look.
CHILDRENSWEAR
The children's range is simplistic in order to produce a multitude of options, which can be matched back with fashion pieces to suit every occasion. The hero pieces have been designed in new fabrications to add newness and sit back against the aforementioned fashion options.
For girls, there is a mixture of fun nautical aspects, such as shells, seahorses and stripes in the form of appliques and prints. F&F has also created a selection of ditsy prints, a colour palette ranging from soft teal tones to a brighter palette with pops of neon. Focal points for this season's girls include rompers, jersey boxy dresses and frill detailing, ensuring the looks are fun and feminine.
For boys, there is a seaside theme encompassing white based marls, jaspe jersey and ticking stripes. Amongst this, a more adventurous essence is offered through cave paintings, hot tropics and global journeys, which present a range of safari colours and geo prints, creating a tribal feel.
Key shapes include rompers, dip hem tops and an exciting bomber jacket, all of which echo the catwalk.