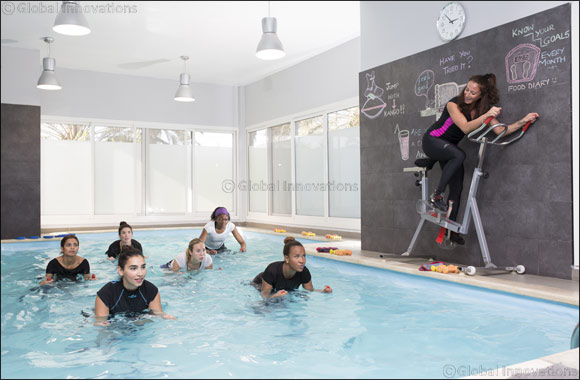 **Burn up to 750 calories per Aquabiking class before detoxifying your body in the unique IYASHI DOME **
Dubai, UAE, February 26, 2017: L'Atelier's Aquafitness classes have taken Dubai by storm since its launch in 2013 and for good reason. Offering low-impact, high-intensity training, an Aquabike class will give you an intense full body workout burning up to 750 calories per class, leaving you with an invigorated body and mind!
With 2017 in full force, L'Atelier Aquafitness wants to encourage you to keep on with your fitness routines with its exciting new offers.
During the month of March only, you can enjoy three Aquabiking classes for the incredible price of AED 360 rather than the usual price of AED 465, offering you nearly 25% discount.
L'Atelier Aquafitness also offers the innovative Japanese practice, Suna Ryoho in its IYASHI DOME. This is traditional ritual where the Japanese would bury themselves in the mineral-rich sands near the beach's hot springs to help their bodies dispel and eliminate toxins giving their bodies an intense deep cleanse while restoring balance and offering long-lasting slimming effects. L'Atelier Aquafitness has brought this wonderful practice to life in its unique IYASHI DOME and during the month of March, guests can purchase two IYASHI DOME sessions for the price of AED 395 (original price is AED 560 per session).
The two fantastic March offers at L'Atelier Aquafitness will allow you to explore the hottest fitness and beauty trends currently available in Dubai at a massively discounted rate – so don't miss out!
L'Atelier Aquafitness is located on Al Wasl Road in Dubai. A 'Discovery Class' for first timers is available for AED 125. Singles classes cost AED 155 otherwise packages of 5,10,20 and 30 classes and Memberships are also available. Classes are offered daily 7 days a week for ladies only.