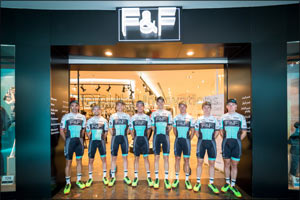 Dubai, UAE, February 15, 2017: F&F, the world's leading fashion brand proudly sponsored Great Britain's One Pro Cycling Team at this year's 2017 Dubai Tour and the team were invited into the F&F store for an afternoon of styling tips, recommendations and insight into the latest trends in this season's fashion.
The International fashion brand from the UK, for men, women and kids at amazing prizes welcomed the team into the F&F store at Oasis Centre, where they met with the F&F team, tried on this season's key pieces and met with their fans ahead of the professional cycling race.
F&F store located at Level 1, Oasis Centre, Sheikh Zayed Road, Dubai.