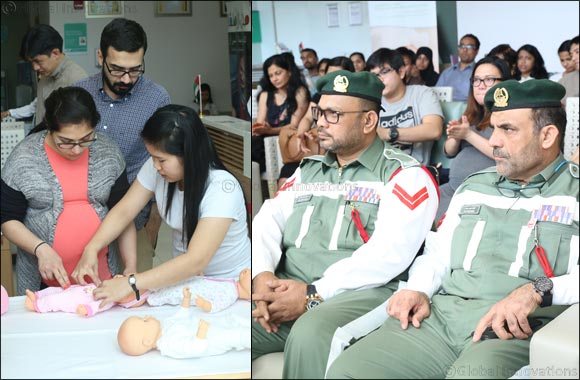 Dubai, United Arab Emirates, 12 February 2017: Aster Nurture organized the first 'Aster S.H.I.E.L.D' session on Friday, 10th February at Aster Hospital, Mankhool. The event aimed at educating parents and caregivers of babies about lifesaving measures and basic first aid in case of emergency situations. The event saw participation of around 100+ people who took part in the training sessions, demonstrative safety measures and the quiz competition.
Ensuring baby safety gets challenging as the baby grows older, this event was aimed at creating awareness among parents about the various facades of baby safety and to communicate about S.H.I.E.L.D - Safe Handy Information that Eliminates Likely Dangers.
Aster S.H.I.E.L.D included sessions on ways to identify a sick baby, life saving measures for babies, contents of a first aid kit at home, etc. This event also saw the attendance of dignitaries from the Dubai Police who educated the parents with insightful inputs on road safety measures to be ensured when travelling with children in vehicles. The informative program also included a session on car safety training by Babyshop - a pioneer in child safety for the last 13 years, who is also the main sponsor of the event.
"Dubai Police Traffic Department runs various road safety awareness campaigns including those for bikers, drivers, pedestrians and more. Road safety is the responsibility of not only the driver but also the passengers seated in the car. Crossing the roads properly, wearing the seatbelt at all times and following the traffic rules are important aspects of road safety that should be strictly followed," said Mr. Omar Muslim Osman from the General Department of Traffic.
Aster S.H.I.E.L.D is an awareness initiative organized by Aster Nurture, a program run by Aster Hospital & Clinic that is aimed at nurturing, caring and protecting the mother and the new born baby from the time the mother conceives till the child is five years old. Aster Nurture regularly conducts various educational sessions on parenting, prenatal yoga sessions for expectant mothers, Mummy's Circle - sessions for mothers to express their views and opinions on various concerns of motherhood, Aster Melodia – a musical way to bond with the babies and Parents Connect - a weekly session for parents-to-be that provides guidance on the importance of right parenting, exercise, diet and baby care.