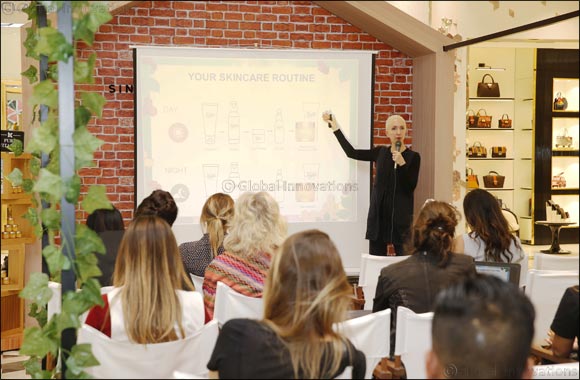 A private makeup master class for TRYANO's VIPs celebrated the Official launch of the latest Kiehl's product, Pure Vitality Skin Renewing Cream
Abu Dhabi, 7 February 2017: TRYANO, Chalhoub Group's Premium specialty department Store in Yas Mall, Abu Dhabi, hosted an exclusive Kiehl's skincare master class on February 1st to showcase the brand's new Pure Vitality Skin Renewing Cream.
Kiehl's Vice President of Global Education Development, Cammie Cannella, gave an in-depth master class on maintaining healthy skin and protecting it from the external factors that we are exposed on a daily basis, especially in the UAE. Amongst a few of other Kiehl's must-haves, Cammie introduced Kiehl's Pure Vitality Skin Renewing Cream, along with its key benefits to the audience. The product is 99.6% naturally-derived formula that is the first of its kind to leverage the combined efficacy of New Zealand Manuka honey and Korean Red Ginseng Root, two world-renowned wellness ingredients.
Cammie also explained "I am honored to be at TRYANO today all the way from New York to this beautiful place in Abu Dhabi" She added "I think that the customers are going to benefit so much from our Kiehl's Pure Vitality Skin Renewing Cream as its natural ingredients and our formula is proven to give immediate results" . "I would love to say please come in and experience the formula, we would like to teach you how to use it and when to use it. In Kiehl's we provide personalized service to guarantee that you get the best results for your skin" said Cammie
Attendees were delighted to be the first to preview this latest innovation from Kiehl's. Pure Vitality Skin Renewing Cream that will be launched in TRYANO in mid-February.
Price:
Pure Vitality, Skin Renewing Cream, 50mL – 265 AED
Pure Vitality, Skin Renewing Cream, 75mL – 340 AED