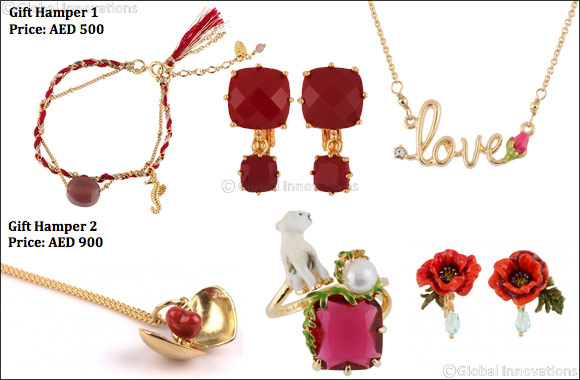 Designers of the luxury costume jewellery brand have put together two exquisite hampers to sweep loved ones off their feet with an unforgettable expression of love
Gift Hamper 1
Price: AED 500
This gift hamper contains Lucky Bracelet, La Diamantine Earrings, and Love Necklace.
The Lucky Bracelet is made of braided threads form of a collection dedicated to colorful wishes! These jewels consisting the symbolic charms allied to marbled geometric stones show the main themes of the season. Individually priced at AED 165
La Diamantine" Earrings– The earrings are from a timeless and elegant collection that symbolises the absolute femininity. It is in this classical jewellery that Les Néréides drew its inspiration.
Individually priced at AED 225
"Love" Necklace - A little garden appears to have bloomed on the Nereides alphabet. Each letter has its own story, dotted with flowers, cut glass, leaves and rhinestones. A delicate line of jewellery, symbolising the word that we hold dear to our hearts. Next to the flowery letters, words with a more universal meaning unfold- peace and love.
Individually priced at AED 410
Gift Hamper 2
Price: AED 900
This gift hamper contains Ouvre-Moi Necklace, Obscurite Ostentatorie Ring and Floraisons Sauvages Earrings.
"Ouvre-Moi" Necklace - These silver-gilt, heart-shaped pendants have secret openings that unveil beautiful sketches within.
Individually priced at AED 635
"Obscurite Ostentatoire" Ring - You cannot help but feel tenderness towards these little creatures, opening their eyes for the first time. Their youthfulness unleashes a certain freshness accentuated by stones that are full of character and some unique organic elements. This romantic collection of three- dimensional creatures stands out from the crowd with its lively colours and some spectacular enamel work.
Individually priced at AED 450
"Floraisons Sauvages" Earrings - The beauty of nature is immortalised here in all its freshness, sensitivity and vitality. Tiny seedlings have bloomed with spontaneity and vigour into abundance of wild flowers: poppies, cornflowers, daisies and thistles together attract blue-colored ladybird and white-cut stones that resembles tiny droplets of morning dew. Together their slender silhouettes create a lush Japanese flower-lawn, which is a tribute to the joy of living. A collection that echoes rustic, a classic line created by Les Néréides, that is simply a must have.
Individually priced at AED 385
The stores are located:
City Walk Boulevard 2, Store 7-07, Dubai, UAE
Dubai Mall, Level 1, Besides Galeries Lafayette, Dubai, UAE