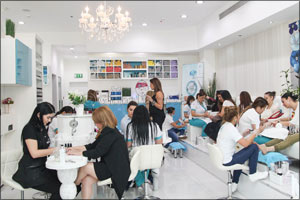 On 25th January, 2017, Re-Salons and Spas organized a one-of-a-kind beauty event 'Beyond the Mani-Pedi' at its Marina Branch located on 1st Floor, Trident Building, Dubai Marina.
In collaboration with Enigma Beauty Group, the event was held to introduce Alessandro International foot care range and Kinetics Professional Systems.
The event was graced by some of the leading influencers and bloggers of the UAE who were pampered with nail treatments from the newly introduced range of Kinetics SolarGel and Alessandro International foot care range.
The Kinetics nail polish is known to have impeccable quality and creates a gel like superior gloss finish on the nails. It lasts up to 10 days and being scratch-proof, it keeps your nails looking exceptionally gorgeous. Furthermore, the Alessandro products are not only extremely soothing for the feet, but also provide a therapeutic experience.
Each influencer and blogger had a lovely time and loved their statement nails created by the extremely well-experienced staff of Re-Salons and Spas.
Rana El-Eid, the Founder and Chief Wellness Advocate of Re-Salons and Spas, who was present at the event, elaborated on different treatments and therapies used.
Apart from having Re-Salons and Spas in her portfolio, she is also the founder of RED Design, Café Céramique and author of the book 'Think like a woman Act like an Entrepreneur'
Re-s holistic therapies have been sourced from across the globe, and harness the latest technology and innovations to ensure maximum results. Guests can also take the RE- experience home thanks to a great selection of homecare products available to purchase from the spa reception, as well as RE-'s award-winning RE-Wheelz SPA @ home service, which brings the entire salon experience to your doorstep.
With branches in Jumeriah, International city and Internet city, Re-Salons and Spas makes the experience accessible to most women across the UAE. Their skilled and professional therapists deliver a host of beauty and spa treatments for you to look good and feel better.
With the introduction of their gemstone membership packages, you can indulge in unlimited spa and salon services every month with added savings of AED 4,000/- monthly.
Re-Salons and Spas aims at making beauty accessible to every woman at affordable prices.
For more information and to enquire about their gemstones, contact: 600522557