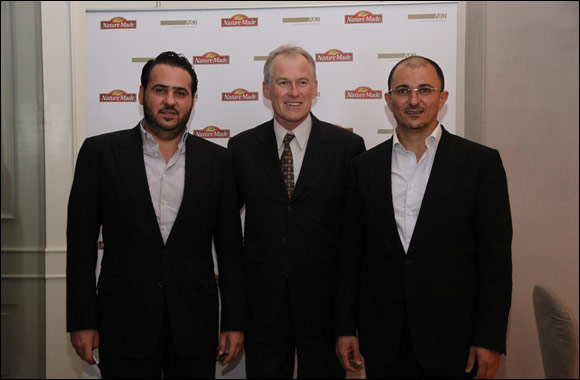 Dubai, United Arab Emirates (March, 2014): Alphamed Pharma, the distribution arm of the Healthcare Division under Al Khayyat Investment L.L.C., held a signing ceremony at the Sofitel Hotel, Palm Jumeirah recently to celebrate the signing of an Exclusive Agreement with Pharmavite LLC for the distribution of Nature Made vitamins in the Middle East.
Nature Made is the number 1 National vitamin brand in the U.S.A.i and was the first National vitamin brand in the U.S. to earn United States Pharmacopeia (USP) verification on many of its products. USP is a scientific, nonprofit organization that has been setting federally-recognized, public standards of quality for medicines; dietary supplements; and food ingredients.
Alphamed will distribute Nature Made products in the United Arab Emirates, Kuwait, Iraq and the Kingdom of Saudi Arabia. A broad range of products will be sold in these countries including multivitamins, letter vitamins, and specialty products that help support heart health, bone and joint health, and digestive health.
Andrew Houlberg, V.P. International for Pharmavite LLC, said "We are excited to be working with Alphamed to re-launch Nature Made vitamins in the Middle East and we look forward to providing the highest quality food supplements for consumers throughout the region."
Alphamed Pharma sells and distributes many of the world's leading brands of pharmaceutical and related products to both private and institutional channels throughout the region.
Pharmavite LLC is the manufacturer of Nature Made vitamins. The Nature Made brand includes over 240 products with exports to countries all over the world. Pharmavite has been developing vitamin products for over 40 years based on the guiding principles of science-based research, quality, and transparency.
About Pharmavite
Pharmavite was founded in 1971 by two classic entrepreneurs, Barry Pressman a pharmacist and Henry Burdick a businessman. Their vision was to create vitamins that delivered on their promise. Pharmavite has been a trusted leader in the wellness industry, recognized for providing scientifically sound, high-quality vitamin, mineral and herbal supplements under its Nature Made brand name. Nature Made is the number one selling national vitamin and supplement brand in the United Statesi and Taiwan. Additionally, Nature Made products are sold in Japan, Korea, Hong Kong, Mexico, Iran, Iraq, United Arab Emirates and Kuwait.
Pharmavite has a well-developed set of scientific capabilities that support their pursuit of science-based, safe and effective products. They support research of their products in long term clinical trials with academic institutions and their scientific affairs organization works closely with key opinion leaders in academia and professional associations.
The Nature Made brand is the leading choice of United States-based pharmacists in eight key vitamin and supplement segments, according to a broad survey and ranking released by U.S. News & World Report, in collaboration with Pharmacy Times. Nature Made is the number one Pharmacist Recommended brand for Letter Vitamins (e.g. A, B, C, D, and E), CoQ10, Omega-3/Fish Oil, Flax Seed Oil, Herbal Supplements, Diabetic Multivitamin (tie), Garlic Supplements (tie) and Cholesterol Management – Natural.
About Alphamed
Alphamed, distributor of a large variety of medical and healthcare equipment and technologies, falls under the umbrella of Al Khayyat Investments' Healthcare Division
Alphamed Pharma, the fastest-growing pharmaceutical distributor in the region, handles specialty products, prescription drugs, over-the-counter medicines and skincare products.
The founding business of what has become Al Khayyat Investments L.L.C.; Alphamed was established in 1982 and is responsible for the sale and distribution of many of the world's leading brands of pharmaceutical and related products to both private and institutional channels.
Alphamed sales force operates an automated online ordering system, integrated with our rapid distribution capability, to bring delivery lead times to less than 12 hours.
"To deliver best-in-class healthcare services and products to patients and healthcare provider's in-line with our global innovative partners' strategy." is the company's mission
Some the Alphamed's business partners include Sandoz, Novartis, Abbott, Kimberly-Clark, Bayer, Smith&Nephew, Bioderma.
About Al Khayyat Investments (AKI):
Al Khayyat Investments is a family-owned company based in UAE; AKI Retail is the retail arm of AKI operating the franchises of leading brands in Fashion & Lifestyle, Health & Beauty and Food & Beverage. AKI operates through a diversified group operation in various industries, across seven autonomous business units, each led by specialists in their fields - Retail, Healthcare, Consumer (FMCG), Contracting, Environmental Services, Automotive, and Strategic Investments. AKI continues to offer partners business solutions to match their aims, focusing on achieving and maintaining leadership market positions.
www.akigroup.com