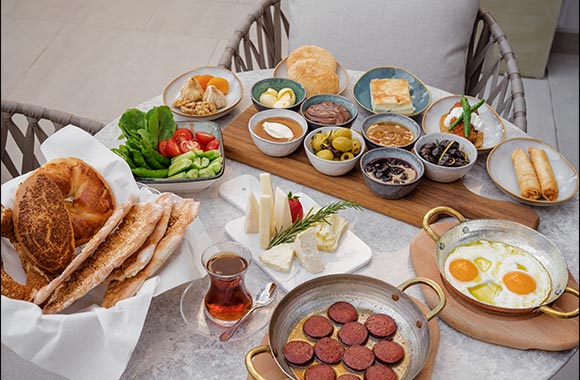 Renowned Anatolian-Turkish family restaurant group launches 50 year old brand at Dubai Hills Mall

Dubai, UAE, 6 May 2023: Bringing a true taste of Anatolia to the region for the very first time, Kasibeyaz has now opened its doors at Dubai Hills Mall with incredible Turkish hospitality and epic views.
Inspired by the charismatic heritage and vibrant pulse of Istanbul, Kasibeyaz was established in 1974 in Aksaray as a family-run business and has grown to become one of Türkiye's most beloved restaurant brands. Celebrating Anatolian Cuisine in suitably stylish locations, Kasibeyaz pioneered combining traditional Turkish cuisine with contemporary design, for almost half a century. Whether dining with unique views across the Bosphorus in Istanbul, or meeting up with friends and family in the heart of Dubai Hills Mall's community, Kasibeyaz continues to bring people together around the world for timeless flavours and cherished memories.
Kasibeyaz Dubai boasts an enormous terrace for dining al fresco, with views overlooking the Dubai Hills green park and beyond. There's even an indoor kid's play area with a range of toys and treats to be enjoyed. With art, architecture and iconic design throughout, it's a place to kick-back, enjoy the aesthetic and indulge in the best Anatolian cuisine that Dubai has to offer.
Flavours From The Past To Present
Anatolian Cuisine is arguably one of the most delicious cuisines enjoyed globally. From the freshest ingredients, to the hearty range of generational recipes, Kaşıbeyaz creates timeless flavours to be enjoyed across contemporary settings worldwide. Best known for signature dishes which include Kaşıbeyaz sarma, Eli böğründe, Nar ekşili lahmacun, Haşlama içli köfte and the most delectable Baklava. Beverages play a big role in Kasibeyaz' personality. Dating all the way back to 1974, the team have developed unique blends and flavoursome mocktails still loved to this day. With the perfect mix of 'old and new', signature beverages include a range of Kaşıbeyaz mocktails, Turkish tea and coffee.

Legendary Baklava
For over 40 years, Istanbulites and tourists alike have enjoyed fresh baklava varieties that leave a lasting impression. Entirely unique and impossible to imitate, Kasibeyaz' baklava masters from Antep ensure only the finest products and quality are embedded in every bite. As a mastered art, baklava baked golden in colour and filled with select Antep pistachios or walnuts, are presented in an array of shapes. With an incredible lightness and crisp outer layers, Kasibeyaz Baklava are notoriously referenced as 'legendary' to all who have sampled these sweet delights; and come best paired with a signature Turkish tea or coffee.