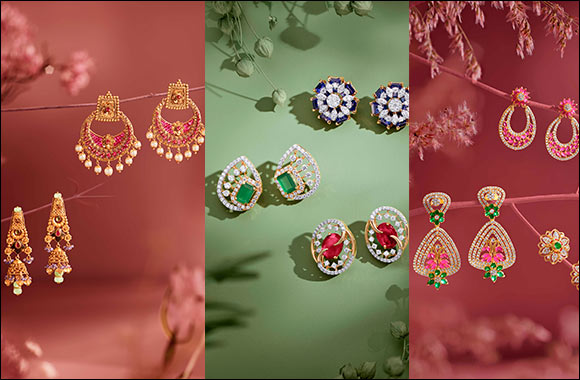 o Malabar Gold & Diamonds presents 'Studs & Drops Festival'
o Festival period - Until 20th March across GCC and Singapore showrooms
o Main attraction – An extensive collection of earrings from over 20 countries in gold, diamonds and precious gems.
Malabar Gold & Diamonds, the 6th largest global jewellery retailer with a strong retail network of over 300 outlets spread across 10 countries, launched their 'Studs & Drops Festival', showcasing an extensive collection of earrings in Gold, Diamonds and Precious Gems, giving their customers a unique chance to experience a diverse collection of earrings from over 20 countries. The festival will run until the 20th March 2023 across GCC and Singapore showrooms.
Women often use earrings to complement their outfits and accentuate their style, preferring to always own an extensive and yet unique collection. The jewellery chain presents a marvelous range of earrings for today's woman, considering the different roles she plays, be it at work, home, celebrating special occasions or adding sparkle to just another ordinary moment in life. This exclusive festival offers a stunning collection of earrings in Gold, Diamonds, and precious gems, designed and handcrafted by skilled artisans from around the world. The customer gets to choose from hundreds of designs that are suitable for office wear, casual wear, party wear or bridal wear along with other international designs at affordable prices.
The Earring collection captures both the traditional and modern aesthetics of jewelry that are perfect for every style. Apart from these, Malabar Gold & Diamonds also showcases an incredible collection of unique designs in gold and diamond jewellery to suit the varied tastes and preferences of its wide range of customers.
The Jewellery come with the highest quality of craftsmanship and the assurance of the Malabar Promise, ensuring that customers can enjoy a hassle free jewellery shopping and after sales services. These include benefits such as Complete transparency, Assured lifetime maintenance, Zero deduction gold exchange, 916 hallmarked gold, Tested & certified diamonds, Guaranteed buyback, and responsibly sourced gold. The brand sharpened its customer centric outreach with the inclusion of responsibly sourced gold in the set of commitments to customers