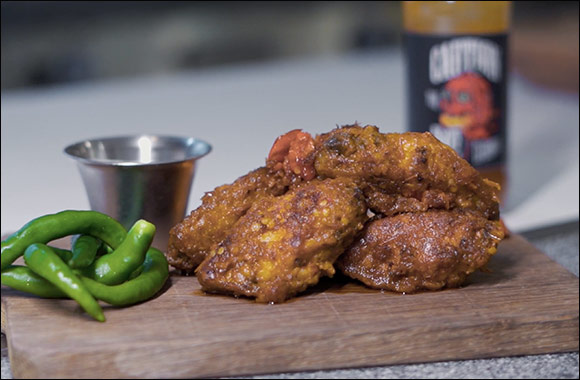 International Chicken Wings Day might be celebrated each year on July 1st but at the Huddle Sports Bar and Grill at Citymax at Al Barsha at the Mall you can celebrate everyone's favorite finger food in all its glory all day every day and win while doing so!
Do you have what it takes to eat 8 of the hottest wings in town?
The Huddle Hot Wings Challenge gives wings aficionados a chance to test their heat tolerance any time from 12 pm to 3 am for a chance to win a bucket of brew. Finish 8 spicy chicken wings in under 4 minutes and the free drinks are yours. Fail as many before you have and you pay for the wings.
And if you're just looking for the best place in town for wings, the menu at the Huddle would make Scoville himself proud featuring wings in every flavor and heat level imaginable.

Start slow and mellow with the mild but delicious Orange and Honey, Balsamic and Mozzarella, or JD Sauce flavored wings.
Ready to take it up a notch? How about Dynamite Wings? Ginger Teriyaki? Or go traditional with the Original Spicy Buffalo?
The heat is on with the Hot Wings section----Peri-Peri, Mango Habanero, Spicy Thai Red Curry and Hot Sriracha are certainly not for the faint-hearted. But if this section doesn't get your pulse racing Satan's Potion, hot crispy wings tossed in a ghost pepper sauce, is next-level and how!

Pricing is equally hot---AED 53 for 6 wings with your choice of 2 sauces and AED 100 for 12 wings with a choice of 4 sauces. Or make it a real party with 24 wings and 6 sauces for just AED 190.

If you've got room for more don't forget to try the rest of the Huddle's exciting pub grub menu and mouthwatering bar bites whilst enjoying unbelievable happy hour deals and discounts on favorite beverages. Hops of the month for AED 35, doubles starting at AED 49 and beer bucket deals…you really can't go wrong!