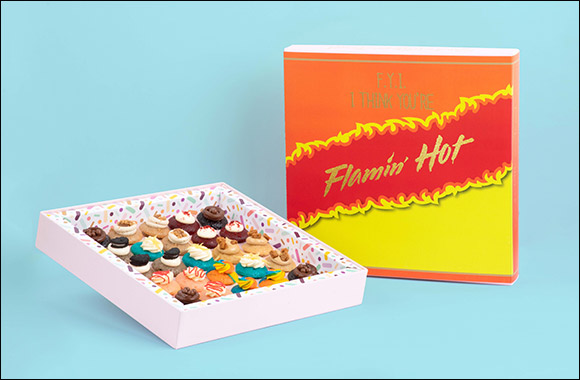 What better way to tell your friends they've still got it than with a flaming hot treat?
Summer is here and it's getting hotter by the minute, just like our Itty Bitty Cupcake City boxes! This month, Sugargram has a brand new sleeve for its cupcakes with a fiery message. Send a friendly reminder to one of your besties, your momma, or significant other that, "FYI, I think you're flamin' hot!". Inspired by Dubai's favourite spicy chips, Sugargram has designed the perfect sleeve to surprise your friends with this summer. The temperatures are rising and so are things at Sugargram!
This May, continue to enjoy Sugargram's new flavour of the month for their Itty Bitty Cupcake City boxes, the Bobbi Brownie! A delightful maple cupcake topped with a smooth chocolate cream and a decadent brownie piece. Next to its new Bobbi Brownie sister, regular box flavours include Fudge Judy (Triple Chocolate); Jennifer Applestone (Apple Crumble); David Rainbowie (Tie-Dye Swirl); Love, Rosie (Rose & Nutella); Mrs. Weasley (Red Velvet & Cream Cheese); Sasha Speculoos (Lotus Biscuit); and Oreona Grande (Cookies & Cream). These bite-sized treats are available in either a box of 25 priced at AED 135, or a box of 50 for AED 300.
Sugargram's sweets are the best way to send your friends and family a sweet treat with a cute message. Let your fiery friends know they've still got it with this adorable Flamin' Hot Itty Bitty Cupcake City from Sugargram! Make your order for these flamin sweets through Deliveroo, Chatfood, or Talabat.