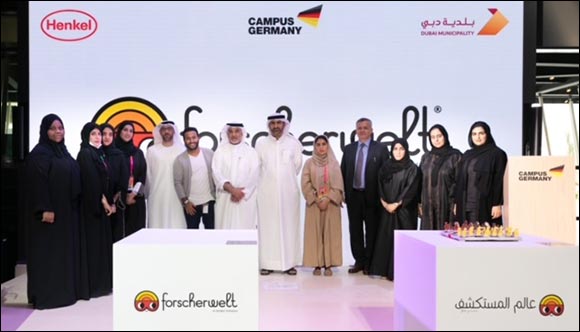 Three students were recognized for their outstanding designs by Talib Abdul Kareem Julfar, CEO Infrastructure Services Sector at Dubai Municipality; Csaba Szendrei, President Henkel GCC, and German Consul General, Holger Mahnicke, at the German Pavilion at Expo 2020 Dubai
UAE, Dubai, 16 March 2022: The winning students in the Forscherwelt Science Lab competition have been announced at the German Pavilion at Expo 2020 Dubai. In an award ceremony led by Csaba Szendrei, President Henkel GCC last Thursday; Aliya Abdul Gafoor from Woodlem Park School, Riya Wynn from Gulf Indian High School, and Amaal Hamad from GEMS FirstPoint School, were celebrated for their creative designs, which stood out to the judges amongst the submissions from over 1,000 students aged 7 to 11 from 14 schools across Dubai.
The science competition was developed exclusively for CAMPUS GERMANY at Expo 2020 Dubai and encouraged students to create structures that could serve a practical purpose at their school or in their home. In line with Henkel's dedication to sustainability, the students were tasked to recycle materials in the construction of their designs.
Aliya from Woodlem Park School created a chess board using papier mache, paint, glue and recycled plastic. She shared her joy for playing chess and her desire to improve her skills over time was her driving force to replicate a full-sized and painted board. She also said this method avoids the pollution caused by the production and transportation from new materials.
Inspired by her grandmother, Riya from Gulf Indian High School designed a papier mache table decorated with mandalas. She was motivated to craft a tool that could be duplicated by children around the world regardless of their access to resources and which could enable them to excel in their studies.
GEMS FirstPoint School's student Amaal illustrated her enthusiasm for the recycling process in her project. Her ambition was to encourage the reusing of paper in the form of a plant pot, which enables young trees to mature safely until they can be planted.
Talib Abdul Kareem Julfar, Chief Executive Officer, Infrastructure Services Sector at Dubai Municipality; Csaba Szendrei, President Henkel GCC, and the German Consul General, Holger Mahnicke, presented the three winners with individual prizes as well as a school trip to Children's City for their classes. The ceremony was also attended by the esteemed guests, Ahmed AlZaroony, Head of Department, Public Parks and Recreational Facilities Department at Dubai Municipality, Mohammed Abdulrahman Ahli, Head of Theme Parks and Recreational Facilities at Dubai Municipality and other dignitaries.
Csaba Szendrei, President Henkel GCC said, "Today we recognised the hard work and creativity the children have shown during our Forscherwelt competition. Aliya, Riya and Amaal showed ingenuity and imagination using various materials. We were very impressed by their final designs. With this competition, we hope that we have helped our future pioneers to grow their curiosity and awareness towards sustainability and innovation."
The school competition coincided with the success of the free Forscherwelt science sessions that have been running at the German Pavilion since the beginning of Expo 2020 Dubai. Henkel is partner of the culture agency, a consortium of VOSS+FISCHER and Mike P. Heisel. Researchers' World – or 'Forscherwelt' in German – is located at CAMPUS GERMANY and is part of an international initiative by Henkel (the German industrial and consumer business company), which was launched over 10 years ago, to engage children in science and awaken their researcher spirit.
The Forscherwelt science program for children at the German Pavilion at Expo 2020 Dubai follows the opening of the largest Forscherwelt facility outside Germany and the first of its kind in the Middle East at Children's City, Dubai Creek Park, three years ago. The workshops at the German Pavilion are conducted by dedicated trainers from Children's City, an edutainment entity of Dubai Municipality. The 45-minute modules, which can accommodate up to six children, are available every Monday and Tuesday. Sessions at the auditorium of the German Pavilion (10am-12pm) can be attended via advanced booking and walk-in, depending on the availability. Bookings for the permanent lab at Children's City, Creek Park can also be submitted by contacting Children's City.